Top 10 best online Shopping Sites in Pakistan
Samra Saghir, 4 weeks ago
0
7 min

read
2248
Since the arrival of 3G/4G in Pakistan, the e-commerce industry has seen a significant upsurge. The growth of Pakistan's e-commerce sector is estimated to achieve $1 billion in revenues by 2020. Despite the general disapproval of e-commerce practices in Pakistan, millions of potential buyers visit online stores every month. Many key players have established themselves as market leaders, but several new ones are attempting to break into the online retail market. The e-commerce market is not only doing well. Approximately 35 % of the country's monthly 70,000 cash on delivery (COD) shipments are delivered to cities outside the three main urban centers – Karachi, Lahore, and Islamabad. Though indicators show a positive trend, ecommerce in Pakistan is still nowhere near the global one due to its late adoption of e-commerce and lack of trust among people at large. Here is a list of 10 best online shopping sites in Pakistan.
1 – Daraz.pk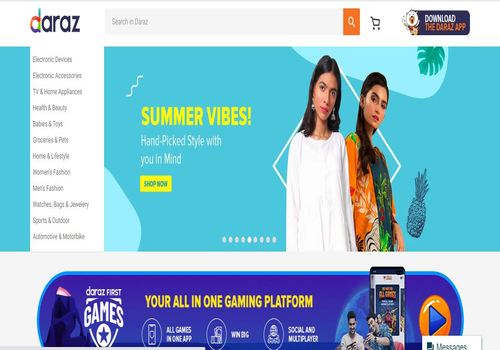 Ecommerce in Pakistan Daraz.pk is, without any doubt, the market leader. Over the years, it has made the right marketing and partnership decisions to maximize its reach and improve brand name recognition. Today it is not only the most popular online retailer but also a household name.
Numbers never lie, and with 9.3 million unique visitors every month, Daraz.pk takes the top place in our rankings.
Thanks to user-friendly and engaging website design, Daraz.pk requires an average visit duration of 5 minutes 6 seconds. Each visitor, on average, views 4.48 product pages on the e-commerce store.
Daraz.pk manages to get more than one-third of its users through direct access to its website, another proof of brand awareness. Only a few numbers of its user-base come from Social media and search results. The majority of the people are either redirected from ads or referrals from other websites. Most of the visitors, who come to the website through a search engine, are looking for Daraz's website link.
2 – Goto.com.pk
Goto is a one-stop online marketplace in Pakistan that brings you a safe, hassle-free, and easy shopping experience at your fingertips—built on the offer of confidence and peace of mind. Goto aims to provide the Pakistani people with a permanent and completely hassle-free shopping experience. As more and more people in Pakistan enter the world of online shopping, Goto has developed a unique shopping experience with a wide range of leading brands in the fields of technology, fashion, beauty, and lifestyle; it offers its customers 100% original products. Goto is one of the best online shopping sites in Pakistan
3 – Kaymu.pk
Kaymu.pk isn't a retailer per se, but it does host thousands of sellers offering all types of products for the user. It's rather surprising that Kaymu.pk, even with so many dissatisfied users, is still the 3rd most popular best online shopping sites in Pakistan. It gets about 1.1 million discreet users every month. Daraz.pk has acquired Kaymu.pk, and reportedly, Kaymu will retire its website and forward all users to Daraz soon, increasing its dominance in the market.
As shown in the breakdown above, most of the visitors get to Kaymu.pk using search engines. About 64% of its user-base comes from random product search-terms on Google and other search engines. Around 10% of its visitors (80% of total referrals) come from Daraz.pk. On average users spend 5 minutes 59 seconds on Kaymu.pk. Pages per visitor are also high at 5.84. Together, this shows the use of an interactive design that compels users to view lots of products.
4 – Telemart.pk
One of the fastest-growing ecommerce in Pakistan shop for electronics. TELEMART is a brand of Tradelink enterprises a company with 23 years of success in the field of mobile phones and consumer electronics from all the leading brands, with competitive prices, a wide range of products and reliable after-sales service and easy customer support through its online shopping platform and brick and mortar outlets spreading nationwide. Dominance in IT and networking products, home appliances, home entertainment products under one roof.

5 – iShopping.pk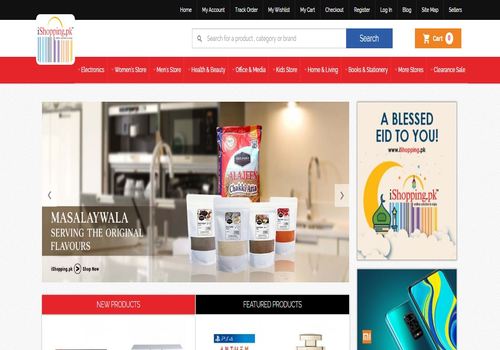 iShopping website founded in 2011. This website is known for its variety of electronic products, especially smartphones. iShopping.pk–an best online shopping sites in Pakistan offer the most common branded merchandise with the latest and advanced products and gadgets. This online shopping website offers a wide range of mobile phones, tablets, computers, TVs and DVDs, gaming consoles and games, home & living items such as home appliances, kitchen appliances, clothes, footwear, fashion accessories and jewelry, beauty and cosmetics, baby care, home décor, furniture and books and many more.
6 – Yayvo.com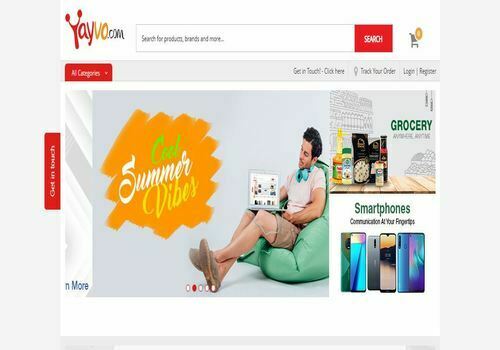 The story of Yayvo.com is quite different from the others. While most e-commerce stores stand on the cappings of their quality product and marketing strategies, Yayvo.com is known for its quick delivery service because Yayvo.com is owned by none other TCS, the leading courier service of Pakistan. Yayvo.com is also gaining momentum, and it will soon become one of the top three online stores in Pakistan.
7 – Shopon.pk
Shopon is the best online shopping sites in Pakistan. Shopon.pk is offering quality products all over in Pakistan. There are massive varieties of products like Gift Card, Health & Personal Care, Mobile and Tablets, Fashion, Computer and Laptops, and Video Games and Consoles.
8 – Homeshopping.pk
Homeshopping is different from mainstream e-commerce stores in Pakistan. Homeshopping.pk is the third party client of Amazon, which is pretty cool because Amazon has everything! Homeshopping is helping more people get goods that are not available in Pakistan. The Amazon Third-Party market is also growing at a fast rate.
A mature and old player in the e-commerce market, HomeShopping.pk has been in the race for very long. However, it only comes in a distant 8th in the rankings with 886,670 views per month. With its long experience in the market and a decent user-base, HomeShopping.pk could have done a lot better with some marketing and brand promotion.
As it's evident in the traffic breakdown above, HomeShopping.pk gets most of its unique visitors from search engines. The average visit duration is 3 minutes 34 seconds, while pages viewed by an average user are 3.34. If HomeShopping plans to grow, it needs to capitalize on its wide array of products by marketing its brand more aggressively. Website design also needs improvement as the current one isn't intuitive enough to retain users for long. HomeShopping.pk consider as the best online shopping sites in Pakistan.
9 – Symbios.pk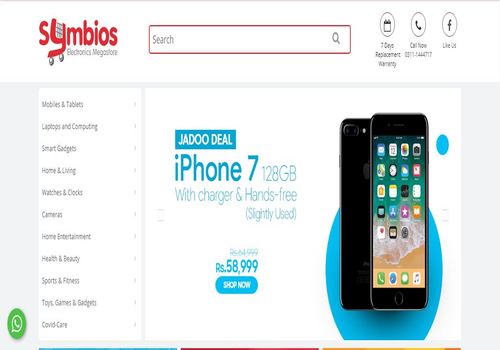 This website deals almost in everything ranging from they deliver to your doorstep on demand. Symbios.pk specialized in various technological and innovative products, which are phones, laptops, cameras, tablet PCs, watches and etc. Symbios.pk is glad to introduce innovative and inventive products to the Pakistani society for the very first time and served our clients while catering to their basic needs. We not only focus on our products, but customer service creates a great deal of trust among clients over a time period. Ecommerce in Pakistan helps an increase in the GDP of the country.
10- Theshoppies.pk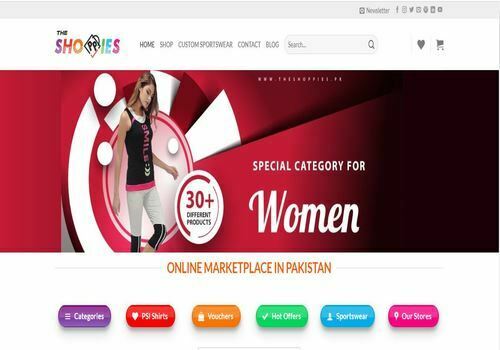 Last on the list is TheShoppies.pk with 30,670 monthly unique visitors. Still a new brand, TheShoppies.pk has seen rapid improvement in recent times thanks to strong marketing efforts.
Traffic breakdown reveals that TheShoppies.pk has been employing a comparatively different marketing technique. Instead of relying on search engines or display advertising, it opts for Facebook marketing which brings it a majority of its visitors. The remaining traffic sources, except display advertising, are evenly spread out. Brand recognition is relatively strong and continues to improve owing to the social media adverts. TheShoppies.pk specialize in various customized sportswear products and Pakistan Super League (PSL) shirts.
Conclusions
There is room for improvement, but several newcomers are rapidly rising and gaining user trust. It's possible that some of them might even make it to the top ten list. The brand promotion will still be the deciding factor in the e-commerce game as Pakistani user-base is still unaware of the benefits of online shopping. Now, e-commerce in Pakistan business is developing day by day.
Related posts
Subscribe for newsletter
* You will receive the latest news and updates on your favorite celebrities!
10 Things That Inevitably Happen When You're Girl Best Friend
Contrary to popular belief, it is possible for men and women to be just friends. If you and your girl best friend are the opposite genders, chances are everyone you meet assumes you're dating, your parents believe you're secretly together, and your friends all wonder…
Cosmetic Surgery Only Improves Your Features. it Does not Work on the Self image
Discovery of the "self image" represents a discovery in psychology and the field of a creative personality. The significance of the self image has recognized for more than a decade. Yet there has been little written about it. I discovered that when he changed a…
How to Reduce Depression During the Lockdown
Nowadays, the message is visible: #STAYHOME! Many countries are in Coronavirus. It is essential to understand that everyone reacts differently to stressful situations. So, while some may find it peaceful to stay holed up and not be bothered by the outside world for a while,…
44 Exercise at Home for Weight Loss
We all desire to stay fit, lose weight, and frankly, I am sure a lot of us have joined the gym as a part of every new year's resolution but eventually couldn't continue. Not because of lack of desire due to lack of time. If…
How to boost immune system? Vitamin D is pivotal for immune.
As the coronavirus pandemic continues to extend quarantines, shutdowns, and social distancing measures — many people are wondering how to keep themselves fit and healthy. In the situation of pandemic working from home, staying inside and social distancing is one way to protect yourself. Start…
How to Lose Weight in 21 Lockdown Days
Weight loss is on the mindset of many people, especially with coronavirus lockdown in full swing. People are allowed one form of exercise a day, & many are worried they will gain weight. Due to the coronavirus, the entire world is under 21 days lockdown….