Achraf Hakimi Divorce: The Moroccan footballer's ex-wife, Hiba Abouk, filed for divorce and demanded more than half his assets.
The news of football player Achraf Hakimi's divorce has gone viral online! Following news that a 24-year-old woman had complained about the Paris Saint-Germain full-back in February, Hiba Abouk filed for divorce from Achraf Hakimi.
According to reports, the woman accused Hakimi of abusing her sexually while the well-known actress was gone with their kids.
As news of Achraf Hakimi's wife Hiba Abouk's divorce filing and request for half of his assets spread, it made headlines.
However, the court informed Hiba Abouk that her "Millionaire" spouse had no property because everything was registered in his mother's name.
According to reports, Hakimi is paid €1 million monthly by the Paris Saint-Germain Football Club (PSG), but 80% of this money is put into his mother's account.
He earns more than a million euros a month, making him one of the highest-paid players in Ligue 1.
Achraf Hakimi Divorce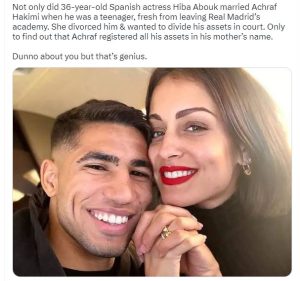 According to reports, Achraf Hakimi is the sixth-highest-paid football player in Africa, making more than $215,000 per week.
Hakimi's mother, however, is the recipient of his income and fortune and has been getting his paychecks into her bank account for a while now.
In a private ceremony in 2020, Achraf Hakimi, 24, wed Hiba Abouk, 36, a well-known Spanish actress. And raise two kids collectively.
Cristiano Ronaldo Will Be A Character In Free Fire
As of 2023, it is projected that Hiba Abouk will be worth $2 million, whereas Hakimi will be worth $17 million.
As soon as the information about the Moroccan football player's assets and wealth was made public after the divorce announcement, internet users were enthralled by it!