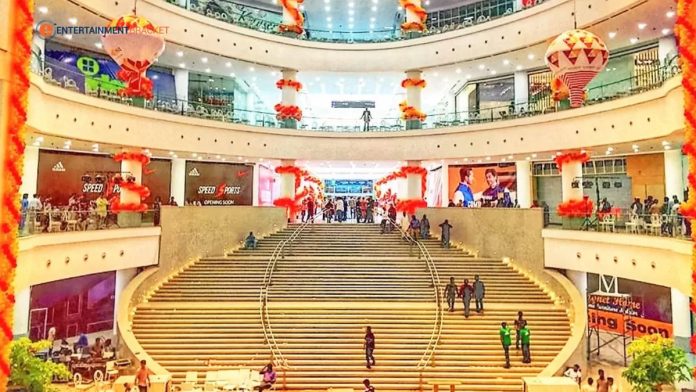 Every country agrees that the activity that makes people the happiest is shopping. Therefore, choosing the ideal Mall is crucial if you want to enjoy shopping. Only a few of Pakistan\'s top shopping complexes with restaurants, retail stores, and many other businesses interested in products existed a few years ago. The top 12 Best Shopping Malls in Pakistan in 2022 can be found here.
Best Shopping Malls in Pakistan
Major Pakistani cities now have a variety of stores where people may find everything under one roof. The best multi-story shopping centers are listed below.
Al Fateh Shopping Mall
Since 1941, the public has been served by the oldest and largest department store chain, Al Fateh Shopping. It provides the public with a wide range and assortment of goods. It has locations open in several Pakistani cities.
Branded goods, such as those for the home and office, electronics, skin and beauty products, apparel, accessories for men and women, children\'s products, bags, pet supplies, and much more, are available here.
Emporium Mall
Johar Town is where the Emporium Shopping Mall Lahore is located. The Mall\'s gorgeous architecture and design offer a practical layout where you can hang out with your friends and enjoy the best shopping all under one roof. The Mall is 11 floors tall and spans 2.7 million square feet. It was opened in 2016 and is now the most well-known mega Mall in Pakistan.
There is a food court with a 3000-person capacity. The most well-known brands are also available to clients at Emporium Mall.
Dolmen Mall
One of the best shopping centers in Pakistan is Dolmen Mall. It is made up of three sizable shopping malls in Karachi. The first is in Clifton, the second is on Dolmen Tariq Road near Tariq Mall, and the third is the \"Dolmen Mall Hyderi.\"
The Dolmen Mall Clifton is located in Karachi\'s coastal area. It has amazing architecture and cutting-edge technology. People adore its architecture because of this. Dolmen Mall Clifton Place was originally both a hotel and a casino. After then, it was converted into the roughly 600,000-square-foot Dolmen mall. This Mall consists of four connected towers with about 130 shop establishments.
Dolmen Mall Tariq Road opened in 2001 and is Pakistan\'s first retail establishment. It has 6 stories and a total square footage of about 250,000. Along with a food court and entertainment area, there are 300 stores.
Dolmen Mall Hyderi, located in North Nazimabad in Karachi, opened its doors in 2008. It spans 55,000 square feet, has 6 stories, and has over 50 branded shopping malls.
Packages Mall
The Packages Mall in Pakistan, renowned for its architecture and design, is the Mall with the second-highest level of fame. Since it first opened in 2017, this Mall has been a popular destination for shoppers.
Along with domestic businesses, this Mall features more than 200 international names. There are three stories in total, but each one has every luxury you could need.
Giga Mall
The Giga Group owns the best and most significant retail center in Islamabad, Giga Mall, which opened its doors in 2016. The Mall occupies a 4-acre space.
People can find a wide range of things here. It offers over 150 outlets with an incredible selection of goods. The food at Giga mall is also fantastic. People can discover brand food courts here and have their meals there.
Centaurus Mall
One of the largest retail centers in Islamabad, Pakistan, is Centaurus Mall. The architecture of The Mall is magnificent. Its five-story structure houses both national and regional brands.
On the ground floor, there are also international brands available. This Mall has more than 250 retail establishments. Customers can request any of the amenities they choose. You may find well-known brands like Hush Puppies, Nike, Junaid Jamshed, and worldwide watch manufacturers here.
Mall of Lahore
Another of the major all-purpose shopping malls in the city\'s cantonment is the Mall of Lahore. It now encompasses 650,000 square meters. Owned by the significant real estate company of Bahria Town, it is the biggest shopping center in Punjab. People can find international brands here.
The Mall\'s structure and architecture are exquisite and distinctive. Its building offers a glimpse of traditional and modern styles, giving the populace a sense of luxury. Because of this, no one can discount the Mall of Lahore\'s distinctive attractiveness.
More than 70 boutiques and 60 opulent residences are found at the Mall of Lahore. There are food courts and the latest international brands available. KFC, TAG Heuer, NEXT, Levi\'s, McDonald\'s, etc., are a few examples.
The Aquatic Mall
The \"Aquatic Mall\" is the first \"Marine-themed\" mall in Pakistan and is located in a great area on GT Road in Rawalpindi. The world\'s tallest aquarium is located there. This shopping center spans 24 Canal and 13 Marla. Customers of this Mall can take advantage of several amenities.
All regional, international, and housing malls may be found in Aquatic Mall. There is a skywalk, a gorgeous rooftop, and an infinity pool. Additionally, there is a VIPS helipad on the top of the roof. Despite some renovation, the Mall has all the services you would expect from a large shopping center.
Lucky One
The largest retail district in South Asia and Pakistan is called Lucky One. The Yunus Brothers group is the owner of that, which is situated in Karachi. It has a floor size of 3.4 million square feet. There are 200 stores here that offer a variety of services. 1200 automobiles can fit in the parking lot at once.
Visitors feel they have arrived at the most luxurious Mall on earth because of its enormous atrium, which gives off a regal vibe and radiates warmth. It is the only Mall with an indoor open-air food court.
Being the biggest Mall in Pakistan, it offers a wide variety of amenities, including name-brand clothing, cosmetics, footwear, and other goods. Every bank branch, sizable gaming area, and restaurant is accessible to consumers inside and outside.
Amazon Mall
Another of Pakistan\'s top shopping centers is Amazon Mall in Islamabad. Additionally, it is the first Mall with a rainforest theme. The shopping center is anticipated to be transformed into a commercial and real estate hub. This offers branded and designed products to its clients.
It is a six-story mall with swimming pools, cutting-edge theatres, energizing cafes, and international eateries. Additionally, it has branded shops and health clubs. Similar to the Pavilion Mall in Malaysia, Amazon Mall is the first themed Mall in Pakistan.
The Amazon Mall\'s striking architecture is due to modern architecture and civil engineering, which gives it a ship-like appearance. one of the Best Shopping Malls in Pakistan.
Ocean Mall
The Karachi neighborhood of Clifton is home to Ocean Mall. It has 28 levels, five below ground, and is 120 meters tall. Its construction began in 2009 and was finished that same year. Due to the strict law and order in the City of Karachi, it was quickly abandoned after being founded as an international project of the hotel known as Sofitel. After this incident, it was modified for the Mall.
Shoppers can continue to visit Ocean Mall from 12:00 to 0:00. On Friday, it is open from 15:00 to 0:00, though. Ocean Mall is home to several companies, including Ideas, Khadi, Tesoro, Bonanza, Gul Ahmed, Chen One, and Sana Safinaz. Additionally, the Pakistan Hockey team\'s second shop has opened.
People can leave their cars in parking spaces at Ocean Mall. Additionally, the Ocean Mall has a mother area and a location specifically designated for cars, which sets it apart from the other shopping malls.
Imtiaz Mall
One of Pakistan\'s top shopping centers is Imtiaz Mall. It is one of Pakistan\'s oldest malls and is well-known. The corporation manages about 24 malls spread throughout various cities in Pakistan, including Sialkot, Islamabad, Karachi, Lahore, Faisalabad, Gujrat, Sargodha, etc.
Imtiaz Mall\'s CEO is Nawaz Abbasi. Customers can enjoy a distinctive shopping experience at The Mall, particularly in Karachi and Islamabad. A shop chain called Imtiaz Mall sells everything from food to non-food items, cosmetics, clothing, and much more.
Imtiaz Mall is situated in Rawalpindi\'s DHA phase II on Grand Trunk Road. Rawalpindi is well known for its distinctive retailing offerings. Pakistan\'s major cities it has 12 branches.
Conclusion
Regarding services and brands, the Mall mentioned above is the Best Shopping Malls in Pakistan. Some malls in Pakistan are still being built, but they will soon be included among the country\'s top shopping destinations. Visit them to use the amenities and discuss your mall experiences.