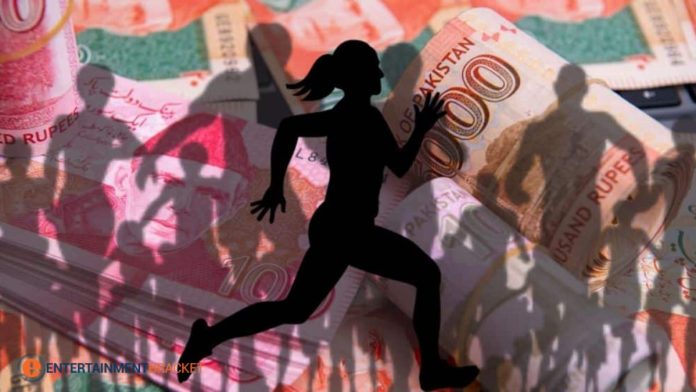 Committee wali baji: A Karachi-based social media personality and businesswoman. Who oversaw the monthly ballot committee system is accuse of hiring hundreds of people. Primarily women, to steal almost Rs 42 crores from the underprivileged. Which is an established method of interest-free savings and deposits known as BC or, in an ancient language, Committees – without keeping any written record of contributors/depositors terminating the entire plan in utter fraud.
Teacher Arrested for Sharing Child Pornography on Social Media
Sidra Humaid, the proprietor of the home-based food businesses "Cróise" and "Daily Bites," is accuse. Of defrauding hundreds of her depositors by announcing a lengthy post on social media. Her 200 committee members are astonish to learn that she no longer has the funds to pay the commission.
Since last week, Pakistan's social media has been flood with victim stories. Some call it a Ponzi scheme and many victims have been in contact with one another. Additionally, some people started a WhatsApp group to organize an attack against Sidra Humaid.
Committee wali baji: Sidra Humaid flees with 42 crores rupees
However, based on the social media post, nobody has attempted to resolve the situation independently or contact the police or a federal investigation agency over Ms. Humaid.
In a social media message, Ms. Humaid, whose whereabouts are unknown. Pleaded with the public not to fear and assured them that their money would be return soon.
According to a victim in Sidra Humaid's committee, Ms. Humaid defrauded between Rs 150 million and Rs 200 million.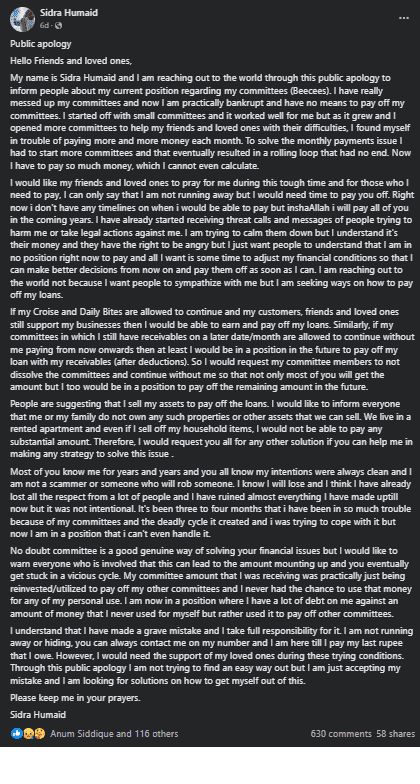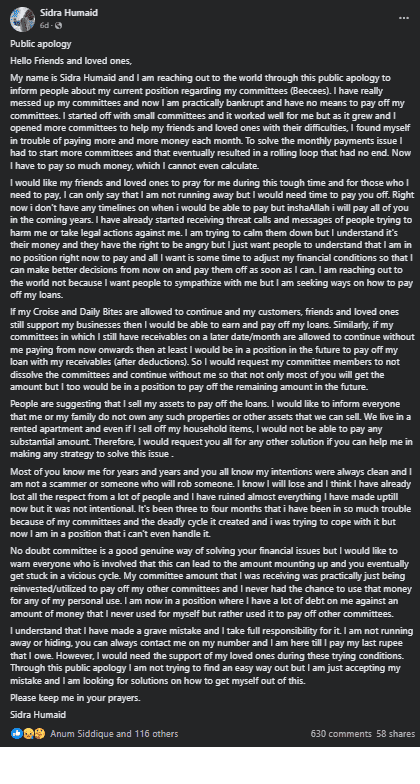 Most individuals have known Ms. Humaid over the past seven to ten years, and I am a member of two of her committees, according to Sana Adnan, who lost Rs. 150,000 in this plan. In "one" committee, I was paying him Rs 50,000 per month, whereas, in "20" committees, I was paying him Rs 25,000.
Wedding Guests Robbed in Karachi Marriage Hall
Another victim of the scam, who wished to remain anonymous, claimed that Ms. Humaid had been posting stories on social media for the previous few months about expensive watches, mobile phones, and other items to explain where all the money was going because her husband is a freelancer. She could not sell that lasagne and give away that much money.
The individual, who allegedly lost a significant amount of money totaling Rs 970,500, claimed that in January. His sister informed him of the committee and that he invested Rs 50,000 every month in the plan in exchange for a Rs 500,000 return.
The individual went on to say that he was also a member of a business. Committee where he received a monthly payment of Rs. 1 lakh against Rs. 8 lakh and another where he was require to pay Rs. 3 lakh monthly against Rs. 2.4 million but regrettably didn't receive any money.
"I spoke to Ms. Humaid's father. He said that he would only refund the amount that was transacte into her account… but the thing is that we used to send money directly to the account of the person. Who had taken the slot in that particular month at her behest.
'Dawn' added that when the company attempted to get in touch with Miss Humaid. She didn't pick up the phone or respond to any messages.
Teacher Arrested for Sharing Child Pornography on Social Media