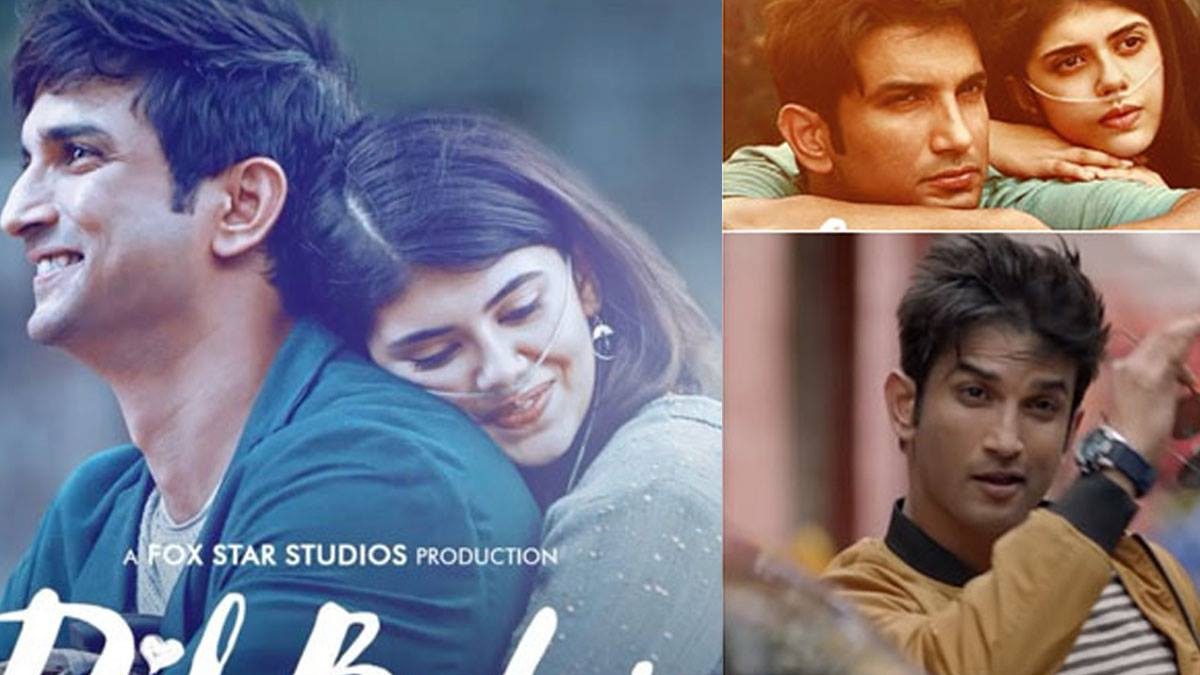 Last month, the death of Bollywood actor Sushant Singh Rajput shocked many peoples all over the world. The actor's death by suicide has angered fans as possibilities emerged of rumors. That he was turned to this decision by a lack of acceptance from his industry. Dil Bechara his last movie.
Fans who were left puzzled by the death of Sushant Singh Rajput are finding joy. As the trailer for his first release just dropped.

Dil Bechara is an official remake of the 2014 Hollywood film The "Fault In Our Stars". The film stars Sushant Singh Rajput and Sanjana Sanghi in lead roles The 2-minute-43-seconds long trailer shows the story of Kizzie (Sanjana). A cancer patient and Immanuel Rajkumar Junior Manny (Sushant), an osteosarcoma survivor. And their emotional journey through the streets of While Kizzie has been living her life knowing that it might end someday, sooner or later. Because of the disease, Manny enters and breathes energy into her dull life, teaching her that life is all about living it to the fullest without worrying about the end.
The first trailer of the film Dil Bechara, which just dropped on YouTube, is beautiful yet heartbreaking in multiple ways. First of all, it's painful to watch Sushant Singh Rajput on screen because he is no more. Watching him perform the character he plays in the film, it's very tough to believe that he doesn't exist anymore. In the trailer, we see Sushant Singh Rajput bringing the screen to life. He is everywhere and so lively that the whole screen looks so refreshing. It just plays with our hearts, and it's tough to watch it without shedding a few tears.
The trailer describes a beautifully acted performance that is sure to serve. As an emotional full stop on Sushant's rather incredible but short career.
The news of the Sushant Singh Rajput movie's Dil Bechara trailer drop spread fans couldn't control. Their excitement to commemorate their favorite one last time
Movie Trailer
Twitter Trend #DilBecharaTrailer
Samra Saghir
Hey! I'm Samra and I'm a Freelance SEO Expert. This is my Blog Site where I create relevant and engaging content for a young, inquisitive, opinionated, empathetic, and bold audience.
Related posts
Subscribe for newsletter
* You will receive the latest news and updates on your favorite celebrities!
10 Things That Inevitably Happen When You're Girl Best Friend
Contrary to popular belief, it is possible for men and women to be just friends. If you and your girl best friend are the opposite genders, chances are everyone you meet assumes you're dating, your parents believe you're secretly together, and your friends all wonder…
Cosmetic Surgery Only Improves Your Features. it Does not Work on the Self image
Discovery of the "self image" represents a discovery in psychology and the field of a creative personality. The significance of the self image has recognized for more than a decade. Yet there has been little written about it. I discovered that when he changed a…
How to Reduce Depression In Every Situation
Nowadays, the message is visible: #STAYHOME! Many countries are in Coronavirus. It is essential to understand that everyone reacts differently to stressful situations. So, while some may find it peaceful to stay holed up and not be bothered by the outside world for a while,…
44 Exercise at Home for Weight Loss
We all desire to stay fit, lose weight, and frankly, I am sure a lot of us have joined the gym as a part of every new year's resolution but eventually couldn't continue. Not because of lack of desire due to lack of time. If…
How to boost immune system? Vitamin D is pivotal for immune.
As the coronavirus pandemic continues to extend quarantines, shutdowns, and social distancing measures — many people are wondering how to keep themselves fit and healthy. In the situation of pandemic working from home, staying inside and social distancing is one way to protect yourself. Start…
How to Lose Weight in 21 Lockdown Days
Weight loss is on the mindset of many people, especially with coronavirus lockdown in full swing. People are allowed one form of exercise a day, & many are worried they will gain weight. Due to the coronavirus, the entire world is under 21 days lockdown….