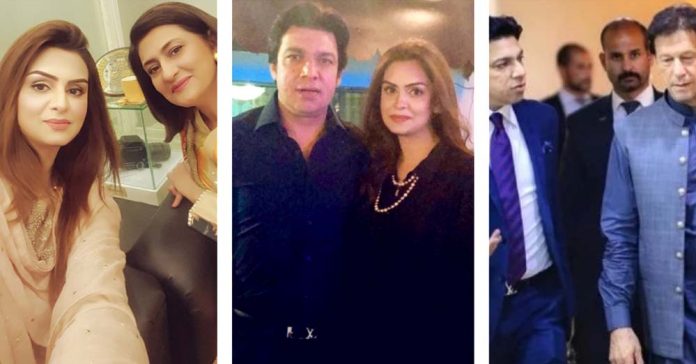 You are all aware that Faisal Vawda is a crucial PTI member. Additionally, he has long been involved with PTI, Imran Khan\'s party, and attends every meeting with a positive attitude. And Faisal Vawda won the National Assembly (MNA) seat on the PTI ticket during the 2018 general elections in Pakistan. Nevertheless, he eventually had to resign as he had been hiding his foreign citizenship.
2018\'s Senate elections brought Faisal Vawda\'s second marriage for the first time. Yes, Saadia Afzaal, a well-known Pakistani news anchor, and Faisal Vawda get married for a \"second\" time. This information was further validated when Faisal Vawda presented an affidavit and said that Saadia Afzaal was his second wife. And that is how news of a significant PTI member\'s covert marriage spread.
In a recent news conference, Faisal Vwada disclosed that Karachi was where the murderous plot against Arshad Sharif was hatched. He also disclosed that he knew who was responsible for Arshad Sharif\'s death and claimed that he would be able to identify the conspirators in a few days. And he added that anyone who killed me after this press conference would pass away in 3-5 hours. Faisal claimed he had also produced a covert film and spent thousands of rupees. Click the link below to listen to Faisal\'s entire remarks if you also want to.
It\'s interesting to note that Faisal Vawda and his first wife, Nazli Vawda, have three daughters. The second wife of Faisal Vawda is a journalist who contributes to other private news outlets. However, Saadia Afzaal has yet to confirm or deny these rumors, and she has not spoken about her second marriage to Faisal.
Dua Bhutto files for divorce from husband Haleem Adil Sheikh after 4 years of marriage
Let\'s look at some lovely photos of Faisal Vawda and Saadia Afzaal together.
PTI serves show cause notice to Faisal Vawda
Following his shocking press conference on Wednesday regarding the death of Arshad Sharif in Kenya, Faisal Vawda was sent a show-cause notice by PTI.
The PTI leader Faisal Vawda\'s hastily scheduled news conference has shattered both his party and the nation\'s citizens in general.
Asad Umar, the general secretary of the PTI, retweeted Ali Zaidi\'s tweet and added a remark saying that Faisal Vawda\'s speech did not represent the position of the party.
Asad Umar reported that PTI Sindh President Faisal Vawda had been given a show-cause notice for breaking party rules on the orders of PTI Chairman Imran Khan.
According to PTI Sindh President Ali Zaidi\'s tweet, \"Vawda tried to harm our Long March. It\'s interesting that every channel, even PTV, covered the news conference, making it obvious that the Imported Government launched him. But he was illogical. Once @ImranKhan, What significance does his press conference have given that PTI has made it obvious that everyone is to keep calm?
Maryam Nawaz Condemned for Distasteful' Tweet on death of Arshad Sharif