The sudden suspension of internet services amid political escalation caused huge damage to digital service providers, especially Pakistani working on freelance giant Fiverr.
As the snap suspension of mobile broadband services dented online services like Careem, and FoodPanda, Pakistanis working online are facing hard times as Fiverr issued a 'risk warning' to clients across the globe before placing orders with freelancers from South Asian nations over the internet outage following the arrest of PTI chief, as the move triggered widespread protests in which several people were killed. At the same time, it caused billions to national kitty.
Amid the brutal clashes and internet suspension, Fiverr cautioned buyers with a text citing 'freelancer located in a country experiencing internet outages and your order may be delayed,' as it caused many to avoid giving jobs to Pakistanis.
Pakistanis are among the top freelancers in the world doing online work and, amid the dilemma, flocked to Twitter, sharing their ordeal as the internet suspension is said to cause nearly Rs1 billion loss.
Internet Suspension Leaves Daily Earning Riders Jobless
As some lamented government's action to snap the Internet, others tagged Fiverr, telling the second-leading freelancing platform about the availability of the Internet. Here's how people reacted: Most IT professionals are working from home today due to blockages of several arteries in parts of the country; however, the IT industry, which is already under pressure, now comes to a standstill since the suspension of the Internet.
Social media users also called out for shutting down the Internet as it added more problems than it solved.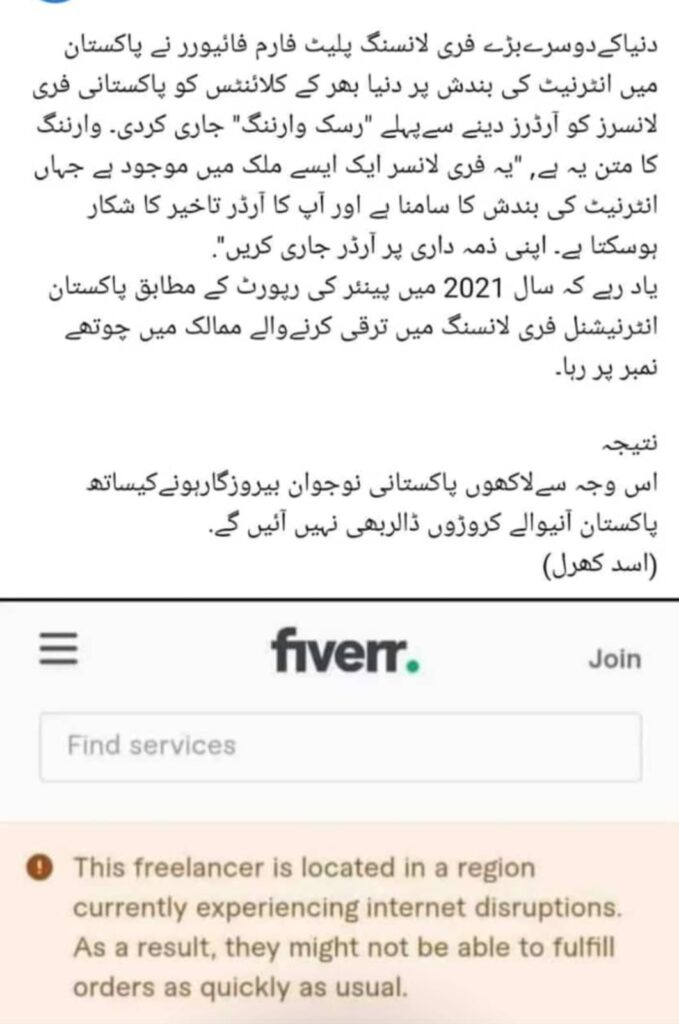 Last year, freelancers of the fifth most populated nation raked in around $2 billion in IT exports, a hard currency source for Pakistan, battling to meet its foreign exchange need.