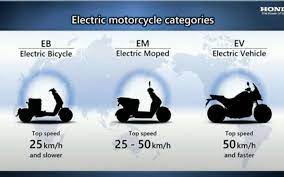 By 2025, Honda plans to introduce 10 or more brand New Electric Bikes The corporation revealed the news during a briefing on its motorcycle business plan.
The company will introduce these bikes in China, Asia, Europe, and Japan. Electric scooters, commuter bikes, street bikes, crossover bikes, and cruiser bikes are among the available options.
Electric Bicycles (EB), Electric Mopeds (EM), and Electric Vehicles are the two categories into which Honda has split the bikes (EV). A vehicle classified as EB must have a top speed of 25 km/h or below. An EV is define as a vehicle with a top speed of over 50 km/h, while an EM will have a top speed of 50 km/h or less.
The EVs will be introduced in Japan, Europe, and the US, while the EMs will debut in all markets except Japan, Europe, and Asia, according to the presentation. The company will introduce 7 mopeds, 3 big bikes, and 1 kid-sized trail bike. However, it has not provided many specifics regarding the costs or specifications of its planned products.
Honda In Pakistan
According to production and sales volume, Atlas Honda has been manufacturing bikes in Pakistan for many years. Despite this, the business continues to market incomplete museum objects.
Yamaha YB125Z-DX | Specifications, Features & Price 
Atlas Honda has announcing price increases regularly despite maintaining that 90% of its bikes are made in the country. Despite this, there is still a high demand for its bikes because consumers have few options.