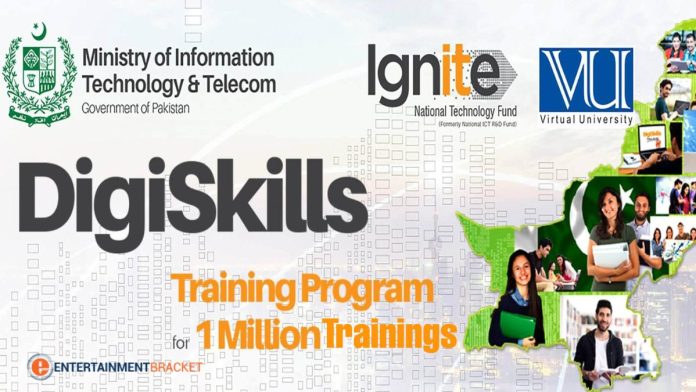 DigiSkills, launched in 2018, is a platform for ordinary Pakistanis to brush up on their skills. The Ministry of Information Technology and Telecommunications initiative started this platform to train one million people in digital skills and make them an asset for Pakistan, providing free education to people all over Pakistan. How to enroll courses in digiskills
Apple Airpods Price in Pakistan 2022 – Latest and Best Apple Worth Buying
Digiskills
Pakistan is the world\'s fourth-largest provider of freelance services, which is a significant accomplishment for us. DigiSkills provides a diverse selection of online courses. This platform is ideal for anyone who wants to start a freelancing career and is a fantastic way to empower the youth of this country.
Filling out an application for the DigiSkills Training Program
Follow these steps to enrol in the programme:
Visit the official DigiSkills website.
After that, you must create a DigiSkills account by providing your name email address and selecting a password.
When you\'ve finished filling out all fields, click the submit button.
Sign up for DigiSkills
Applying for DigiSkills Training Program
The work isn\'t done yet because you still need to finish your trainee profile before applying for the training programme. What is the best way to go about it? Simply read the instructions below.
Click on Sign In on the DigiSkills official website.
Sign in with your account credentials.
You will be asked to provide personal information after logging in. Fill out the form completely, including your date of birth, CNIC number, and postal address.
You must then provide information about your qualifications and current employment status in the next step.
Following that, you will be asked a series of questions, including:
Why do you want to become a member?
What would you like to know more about?
Are you familiar with the concept of freelancing?
When you\'ve finished answering all of the questions, click submit to finish the trainee profile.
LMS profile on DigiSkills
After you\'ve completed your profile, you\'ll be able to select the courses in which you want to enrol.
What Should You Be Aware Of When It Comes To DigiSkills?
This is Pakistan\'s first online training programme that teaches the most in-demand skills in the global freelance market. Multiple courses are available online, and you can enrol in as many as you want to keep your skills up to date with what the rest of the world wants.
The Pakistani government took the initiative led by the Ministry of Information Technology and Telecommunications, the National Technology Fund, and the Pakistan Virtual University. This training programme is extremely simple to join and is completely free.
All you have to do is sign up and begin taking the appropriate course for your profession and goals.
Courses Available through DigiSkills Training Program
At the moment, DigiSkills is in the midst of its tenth session, with the eleventh set to begin soon. At the moment, you have a choice of ten courses, all of which are available for free. These are the courses:
Freelancing
E-Commerce Management
Creative Writing
Graphics Design
QuickBooks
WordPress
AutoCAD
Search Engine Optimization (SEO)
Digital Marketing
Digital Literacy
Who is eligible to apply for this programme?
The DigiSkills programmes are open to anyone. Anyone who can understand, read, and write English can participate in these programmes and work as a freelancer. All you\'ll need is a reliable internet connection on your laptop, desktop computer, or Android smartphone. Google PlayStore is where you can get the app.
What Methods Will You Use to Learn?
You will have full access to the DigiSkills Online Learning Management System once you have signed up for the course you want to learn. From the comfort of your own home or office, you\'ll have direct access to the videos and content you\'ll need to finish your course.
Keep in mind that this programme was created to provide freelancers with skills and training, not with jobs. A freelancer can only take two courses at a time. You can complete each of the ten courses in one of five batches. The enrollment process is based on a first-come, first-served basis. You will receive an e-Certificate from DigiSkills Training Program once completed the course. The Virtual University of Pakistan will issue the certificate.
How To Get Admission In E-Rozgaar Freelance Training Program