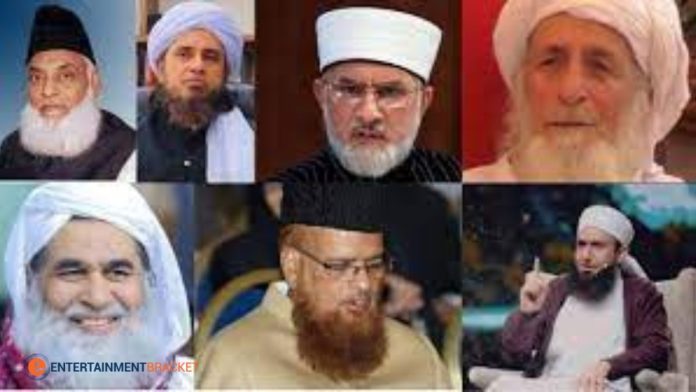 Muslims worldwide are fervently renewing Islam in their hearts thanks to Islamic experts. Do you want to discover who the best and most illustrious Islamic Scholars In Pakistan are right now, in 2022? If so, you should read this article. Some of the most well-known and significant Islamic leaders have been discussed here. All of these philosophers\' writings or public comments are recognized as remarks on religion by their respective civilizations and followers.
12 Favorite Food Of Prophet Muhammad (PBUH) 
Islamic Scholars In Pakistan
As of 2022, these are Pakistan\'s eight most well-known Islamic scholars. Continue reading to discover more about their upbringing, schooling, and private life.
Maulana Tariq Jameel
Taqi Usmani
Ilyas Qadri
Akram Toofani
Allama Dr Tahir-Ul-Qadri
Mufti Tariq Masood
Dr. Israr Ahmed
Nauman Ali Khan
Note: In our society, all religious scholars have a very prestigious and sacred position, and we have no desire to pit them against one another. This list\'s main objective is to provide information about Islamic scholars to anyone interested in learning more about them.
Also Read: List of All Pakistanis in World's Top 500 Influential Muslims
Tariq Maulana Jameel
Deobandi scholar and one of Pakistan\'s most well-liked preachers, Maulana Tariq Jameel, is well-known. He belongs to the Tablighi Jamaat group, which emphasizes the need to motivate Muslims to uphold the core principles of their religion. The 500 Most Influential Muslims have twice included Jameel on their list.
Additionally, he owns the well-known apparel business MTJ, which launched in March 2021 and has its corporate offices in Karachi. According to rumours, the proceeds from this brand go toward building the nation\'s hospitals, schools, and madrassahs and funding them.
Awards & Honours
Pride of Performance award
Titled as one of the 500 most influential Muslims twice
Taqi Usmani
Sheikh Muhammad Taqi Usmani is another well-known Islamic scholar from Pakistan born in Deoband, British India. He is the youngest and fifth son of Mufti Muhammad Shafi. His career in Islamic finance and law lasted a long time. Currently, he serves as the Jamia Darul Uloom vice president in Karachi.
Additionally, Taqi has authored more than sixty novels in several languages. Through his writings, he works to provide his readers with the knowledge they need to address their difficulties in accordance with Islamic principles. The Meezan Bank, founded by Usmani, was Pakistan\'s first Islamic bank. Additionally, he actively contributes to pieces in a number of the top Pakistani newspapers.
Awards & Honours
The following are the honors and accolades Taqi Usmani has received:
Sitara-i Imtiaz (Star of Excellence)
King Abdullah II Award
Emir Muhammad bin Rashid Al Maktum Award
Islamic Development Bank (IDB) Prize
 Lifetime Achievement Award
Ilyas Qadri
Muhammad Ilyas Attar Qadri, an Islamic preacher, is another well-known person. He was born in Karachi on July 12, 1950, to a Memoni family. Ziauddin Madani, an adherent of Ahmad Raza Khan, became Qadri\'s murid. He guided him as he studied for 22 years. He has 30 published works, one of which being Faizan-e-Sunnat.
Dawat-e-Islami, a transnational Sunni organization with members worldwide, was founded by Ilyas Qadri. Dawat-e-Islami is responsible for key advancements in Islamic education. The group has established madrasas where people of all ages can learn and memorize the Quran. Waqar-ud Din and Fadlur Rahman permitted Qadri to practise Sufism, and Amjadi gave him the ijazah to spread hadith.
Contributions:
Along with Faizan-e-Sunnat, Ilyas Qadri has written the following books:
Laws of Ṣalāĥ
Priceless Diamonds
Cure for Anger
I want to rectify myself
Method of becoming Pious
Cure for Sins
Test of the Grave
Akram Toofani
Born in 1930 and dying on December 26, 2021, Maulana Muhammad Akram Toofani was a prominent member of the Alami Majlis Tahaffuz Khatm-e-Nubuwwat and a Pakistani Islamic scholar. He started his religious studies at Jamia Ashrafia Lahore. But as soon as he earned his diploma, he moved to Sargodha and began working as a khatib at a nearby mosque.
In Sargodha, Toofani also founded the Khatam-ul-Nabyeen Medical Complex and Heart Center. The facility, one of the greatest hospitals in Pakistan, is equipped with all the latest medical technology, including angiography, echography, ECG machines, ambulances, and more. Additionally, the cost of all the therapies is only half as much.
Contributions & Accomplishments
Became a central leader of Aalmi Majlis Tahaffuz Khatm-e-Nabuwwat
Khatam-ul-Nabyeen Medical Complex and Heart Center in Pakistan
Allama Dr Tahir-Ul-Qadri
Muhammad Tahir-ul-Qadri is a Pakistani-Canadian Muslim scholar and the founder of Minhaj-ul-Quran International. He is well known for his relentless attempts to unite Muslims through tolerance, integration, and education to strengthen their bonds. The Qur\'an of Minhaj and Irfan are two of his most well-liked compositions.
Formerly, Dr Muhammad Tahir-ul-Qadri was Pakistan\'s Federal Shari\'a Court\'s and Supreme Court\'s jurist consultant (legal adviser) on Islamic law. Additionally, he has appeared on every iteration of the 500 Most Influential Muslims list since it was originally published in 2007.
Contributions:
These are some of his well-known printed works:
Ash-Sharaf al-'Ali fi at-Tabarruk bi'n-Nabi
an-Nur al-Mubin fi Hayat an-Nabi al-Amin
Al-Minhal as-Safi fi Ziyarat Qabr an-Nabi
Ghayat as-Sifa fi Husn Jasad al-Mustafa
Al-'Asal an-Naqi fi Asma' an-Nabi
Kitab al-Iman
Kitab al-Islam
The aspect of Human Rights in the Prophet's Sira
The aspect of Peace and Integration in the Prophet's Sira
Mufti Tariq Masood
Born in Pakistan in 1975, Tariq Masood, commonly known as Mufti Tariq Masood, is a Deobandi author and Islamic scholar. Currently, he is a professor at the Jamia Tur Rasheed seminary in Karachi. Masood is the author of numerous distinguished publications. Aik se Za\'id Shadiyoon ki Zaroorat Kyu is among his most well-known works of literature.
Through several insightful and mind-blowing talks, Mufti Sahab has changed the lives of countless youths and young people. He previously spoke up for Pakistanis working for Chinese companies who were forbidden from praying at work. He suggested that foreign workers tell their Chinese employers that they must follow local laws since \"the country does not belong to them.\" On social media, a video of Masood saying this gained a lot of attention.
Publications:
Aik se Za'id Shadiyoon ki Zaroorat Kyu
Dr. Israr Ahmed
Another notable Muslim philosopher from Pakistan is Dr Israr Ahmad. To promote the application of the Quran and Sunnah to all spheres of life, including social, political, cultural, legal, and economic ones, he formed Tanzeem-e-Islami, a branch of Jamaat-e-Islami. Israr wrote over sixty books about Pakistan and Islam over his career, and 29 of them, including English, were even translated.
The father of Dr Israr Ahmed was a civil servant for the British government. The bayans that Israr Ahmed posted on social media are still widely read and have been for a long time. More than 2 million people subscribe to and watch his YouTube channel, which has received 215,763,887 views. Additionally, he has over 760 posts on Instagram and over 74k followers.
Works & Honours:
Call to Qur'an, the revival of Khilafah, and prophetic model of revolution
The Call of Tanzeem-e-Islami
 Sitara-i-Imtiaz Award
Nauman Ali Khan
The last person on our list is Nouman Ali Khan. He established the Bayyinah Institute for Arabic and Qur\'anic Studies and is essentially a Pakistani-American Islamic scholar. As with Dr Israr Ahmed and Maulana Tariq Jameel, Nouman has been named one of the 500 most influential Muslims worldwide. He was born in Germany to a Pakistani family.
Nouman taught Arabic at Nassau Community College until 2006, focusing only on Bayyinah. Since then, he has educated over 10,000 pupils through initiatives and mobile lectures. His current goals include teaching his students, developing an Arabic curriculum, and working from home to create programming for Bayyinah TV.
Popular Publications:
Divine Speech: Exploring Quran As Literature
Arabic With Husna
Bondhon
Revive Your Heart: Putting Life in Perspective
Revive Your Heart: Putting Life in Perspective
Verdict
For the people to live by the cherished faith of Islam, Islamic scholars and ulama must communicate and interpret religious information. The Top 8 Islamic Scholars In Pakistan in the nation are listed in the list above. Thus, you may unquestionably rely on their teachings if you want to become a better, more devoted Muslim.