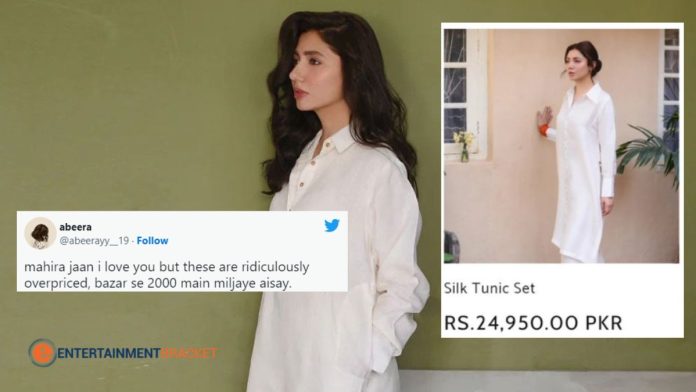 Mahira Khan Expensive plain kurtas on M By Mahira: Although Mahira Khan's debut collection was almost completely sold out, some fans are still uneasy about the price. Khan's new line, M By Mahira, has minimalist ivory clothes that she adores. Her beloved Nani served as the inspiration for her debut collection, Razia. The newly established fashion label recently unveiled two kurtas, a trouser, a dupatta, and a silk tunic suit.
When M By Mahira debuted on February 12, admirers flocked to the website to browse the items. The items' prices, however, stunned a lot of people. The least expensive item from the series was the ivory dupatta, which cost Rs3500. Her silk tunic ensemble, including a shirt and pants, cost Rs24,950.
24 Brands That Are Owned By Pakistani celebrities
Many people expressed their concerns about the "expensive" apparel line on social media. While adoration for the actress continued to be expressed, many fans remarked that they would never be able to purchase her items.
Mahira Khan Expensive plain kurtas on M By Mahira
Mahira Khan selling a PLAIN WHITE LINEN KURTA for 13k???????!! And its already sold out?? WHY ? HOW? WHO? pic.twitter.com/Mq03TwzI3Q

— Fateymaaaa (@_brb_crying) February 12, 2023
once again asking this, am I getting mahira in these prices too? because what on earth 😭 pic.twitter.com/oxKL1Y7BCP

— 🌻 (@xyzmariaa) February 12, 2023
mahira jaan i love you but these are ridiculously overpriced, bazar se 2000 main miljaye aisay. pic.twitter.com/Jg2VRYEn50

— abeera (@abeerayy__19) February 12, 2023
About M by Mahira's
The actress claims that M By Mahira will feature all-white clothing, which she reportedly adores. Before the debut of her apparel collection, Mahira remarked, "If I had to wear one thing for the rest of my life, I would select a white kurta shalwar."
A dedication to her cherished Nani is included in the first collection, Razia. "at her bedside, the aroma of freshly shaved Nargis. She had bookcases full of literature that satisfied her spirit. Her bangles made a variety of soft, consistently pleasing sounds "a shared Instagram post. Mahira Khan drew inspiration from her late Nani, Razia, for our first collection.
View this post on Instagram
Speaking about the same, the award-winning actor shared, "I was very close to my nani and was always deeply inspired by her timeless poise, grace and elegance."