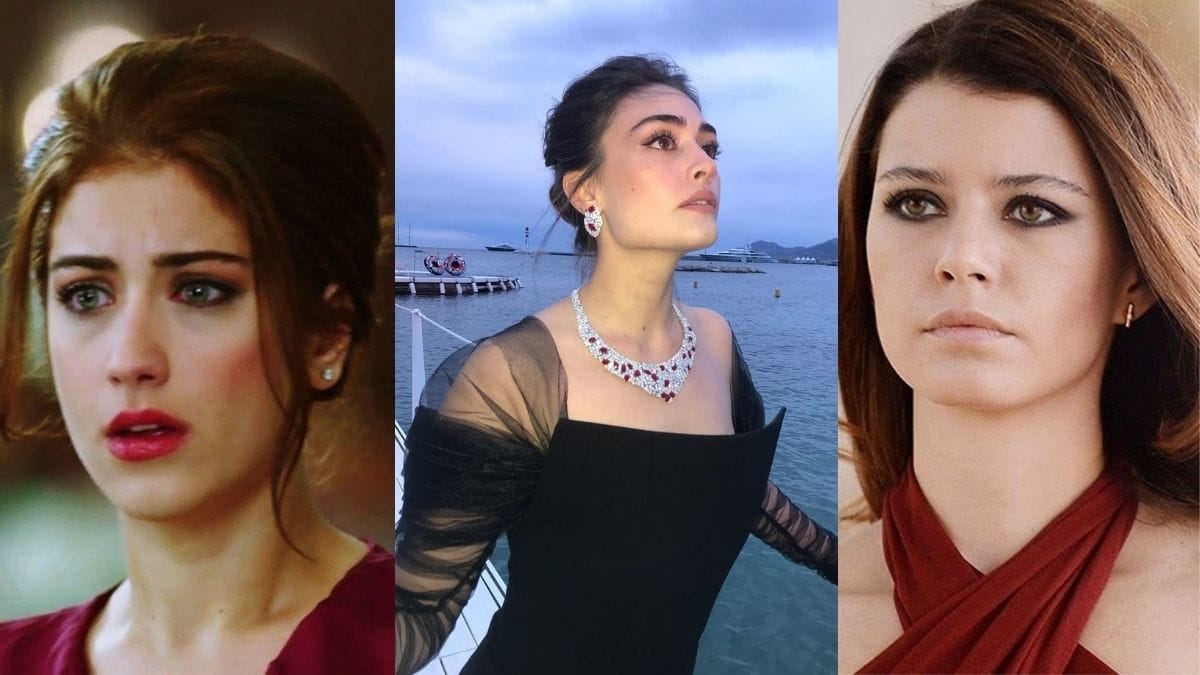 Of course, Turkish cinema cannot be compared to Bollywood or Hollywood, but it is clearly growing rapidly. Annual festivals are held in Turkey, with national festivals in Antalya and international festivals in Istanbul. On the internet, there are numerous fan groups and forums dedicated to Turkish cinema. TV series was particularly popular with the viewers. There are too many beautiful men and women in Turkey who have made the country proud with their talent, and it\'s unfair. All of Pakistan\'s popular dramas, from Ishq-e-Mamnoon to Ertugrul, have featured some of the country\'s most talented actors and actresses. There\'s just too much of it for us. However, some of the most beautiful Turkish actresses we want to see on our screens are list below.
1 – Alina Boz
Her role in Sevda\'nin Bahçesi (The Garden of Sevda) propelled Alina Boz to fame. Defne was her character in a TV mini-series. A role in a Netflix Original Turkish series was offer to her after that. There is no way we can wait for it. As far as Turkish actresses go, Tuba is a legend. As the best and perhaps the most beautiful Turkish actresses have to offer. She is in a league of her own. In addition to her acting career, she has two daughters of her own.
Amna Ilyas In 'Hot Waters' With a Bold Photoshoot
2 – Büşra Develi
Regarding talent and appearance, Develi is among the best of the best in Turkey. Only a glance at the picture will convince you that she is stunning. However, what sets her apart is her acting career, which has produced a number of successful films.
Also Read: After 'Diriliş: Ertuğrul', Five Must-Watch Turkish Dramas 
3 – Aslıhan Güner
Guner is one of Turkey\'s most popular actresses today. In addition to a Netflix original, she has several acting credits under her belt. It\'s a sight to behold.
4 – Esra Bilgiç
Esra Bilgiç is a Turkish actress who has been in several films. From 2014 to 2018, she was most known for playing Halime Hatun in the Turkish historical adventure television series Diriliş: Erturul. In the crime drama series Ramo, she plays the lead role. 28-year-old actors are consider beautiful Turkish actresses.
 5 – İlayda Alişan
This beautiful and talented actress is currently starring in a mini-series on the internet called \"Therapist.\" She has a long list of impressive accomplishments to her credit. Her most recent achievement was being named the shining star of the 46th Pantene Golden Butterfly Awards, which took place in September.
6 – Melisa Aslı Pamuk
Turkish TV drama, which has become a worldwide phenomenon, starred Pamuk (The Red Room). She didn\'t look back after that. Locally and internationally, she has praised for her work since then. She is one of the most beautiful Turkish actresses
7 – Öykü Karayel
Karayel, according to Turkish, was the actress who made her mark in 2021. Bir Başkadr (Ethos), a Turkish original series on Netflix, gave her international fame as the character Meryem.
 8 – Ayça Ayşin Turan
Believe that Turan is already an accomplished actress at the age of 23? While pursuing her higher education in Turkey, she also pursues a career in acting. For her role in Hakan: Muhafz, she is best known (The Protector). She is consider a beautiful Turkish actresses
9 – Hazal Kaya 
Hazal Kaya first appeared in front of the camera; it was in a commercial film. In 2006, she made her television debut in the series novice Witch. In his second year of high school, Hazal Kaya starred in a television series called Genco. However, With the film\'s instrumental hook, she had his first taste of the film. In 2011, Hazal Kaya, who made her name known as Nihal Ziyagil in the series Ask- Memnu, starred as Feriha in I Put Her Name Feriha, which broke rating records.
10 – Beren Saat
Beren Saat, who had his first acting experience with Tomris Giritlioglu\'s series Askimizda Olum Var (2004), landed his first starring in Tomris Giritlioglu\'s series Aska Surgun (2005-06). Then, what about Hatirla Sevgili (2006-08), Ask-Menu (2008-10), and Fatmagulun Sucu Ne? Ask-Memnu, in particular, has received some criticism. Still, it has set the agenda by shattering watching records in Turkey and being broadcast in several places outside of Turkey.
11 – Gülsim Ali 
Gülsim Ali is a Turkish model and television actress. She is most recognized for her role as Aslihan Hatun in the Diriliş: Erturul historical drama series. She also appears in Hanm Köylü as lkgün. Payitaht: Abdülhamid and Diriliş: Erturul are two of her most well-known dramas. She is consider as beautiful Turkish actresses.
12 – Tuba Buyukustun
In 2021, Tuba Buyukustun is regarded as the most beautiful Turkish actresses. In 2003, the actor, who was born in 1982, began her acting career. Because she is so talented, she has starred in some of the most well-known Turkish television series.
She first appeared in cinema in 2004 and has since become one of the most sought-after Turkish actresses for both domestic and international projects. Tuba Buyukustun uses her beauty to tell audiences stories that they can relate to on a personal level.