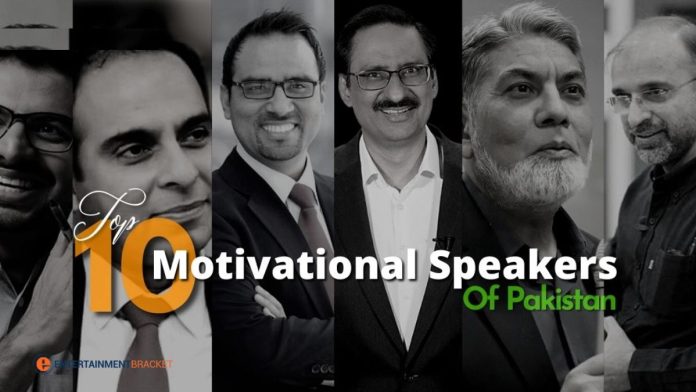 Motivational speakers are becoming increasingly popular in Pakistan. Motivational speakers in Pakistan motivate and inspire others by their speeches or counseling, allowing them to stay motivated and shine without having to worry about thinking negatively or working around their flaws to reach their life goals.
These speakers offer strong talks that readily influence people\'s thoughts and assist them in achieving their goals. After being motivated for a purpose in life, a person with any unique weakness might improve their personality.
An ordinary man will undoubtedly improve their talents and be eager to try new things in life. Motivational speakers also assist people in quickly overcoming their despair and returning to their normal lives.
In 2023, depression and anxiety will be the most common factors affecting personal health. The pandemic and the resulting lockdowns have had a terrible effect on people\'s brains, causing them to be unable to break free from their feelings of worry and melancholy.
Top motivational speakers in pakistan
The top motivational speakers in Pakistan in 2023 are doing an outstanding job of assisting others in getting back on their feet and enjoying the various stages of life.
Meet Umar Farooq an Inspirational Pakistani Entrepreneur 
What Is This Lack of Professionalism In Pakistan?
To keep one\'s life on course, one must be motivated. Self-motivation is crucial, but if other motivational speakers inspire you via their personal life experiences or counseling, that is also considere fantastic life support.
Many children and teenagers today seek direction from others, wishing to find someone who shares their perspectives on life and encourages them to pursue their goals. Pakistan\'s youth are depressed, with one out of four experiencing anxiety or sadness.
Mental illness is the leading cause of suicide in today\'s society. People frequently find simple solutions to their problems or challenges, but not their lives. These individuals must listen to top motivational speakers to find solutions to their challenges, such as mental health issues.
The most important aspect of any motivating speaker is the material. Just like the words you use to persuade others, the top of the list does so in a unique and inspiring way.
Many new motivational speakers have claime that they intend to pursue this as a career because they are well compensated for the sessions or seminars that schools, universities, and even businesses hold to impact the minds of students and employees positively.
Salman Asif Siddiqui, Dr. Javed Iqbal, Ahmed Ali Awan, and Javed Chaudhry are among the best motivational speakers. The country is blessed with talented individuals who inspire others to improve their life.
10 Best talk shows in pakistan of 2022
In Pakistan, here is a list of motivational speakers
The following is a list of Pakistan\'s top 10 intellectual motivational speakers for 2023 who inspire and motivate others by serving society with their best content. Pakistan\'s finest motivational speakers include:
Qasim Ali Shah
Umair Jaliawala
Qaiser Abbas
Muniba Mazari
Hammad Safi
Shaykh Atif Ahmed
Tanzila Khan
Sadaqat Ali
Shahid Ullah
Zaydan Khan
Qasim Ali Shah
Qasim Ali Shah is one of Pakistan\'s top and best motivational speakers and an inspirational speaker. Pakistan is a country where he is making a significant contribution to making society a better place to live by encouraging people to cherish their ideas and ideals. He is one of the motivational speakers in pakistan.
According to official sources, Ali is the one who has positively impacted people\'s lives and helped them reach their goals through his inspirational lectures and life guidance.
Qasim is not only a motivational speaker; he is also a coach, consultant, writer, public speaker, teacher, corporate trainer, and an influential leader. Qasim is the author of various works.
He has also written books about success tales as well as self-discovery titles. The following is a list of some of his most well-known and popular books.
Qasim Ali Shah\'s books include Bari Manzil Ka Musafir – For Success and Apni Talash – For Self-Discovery.
Books are written by Qasim Ali Shah
Bari Manzil Ka Musafir – For Success
Apni Talash– For Self Discovery
Zara Num Ho- For Motivational Quotes and verses
Apka Bhi Kamiyab Ho Sakta Hai– It is a 'Complete Guide For the Parents'
Kamiyabi Ka Paigham– It is to know 'How to become successful'
Fahad Khan
Fahad Khan is the best motivational speaker in Pakistan. Moreover, he is also an entrepreneur, philanthropist, life or business coach and strategist. At 23, he started his career and found Canada Prime Marketing. 
At CPM, he used to work for those Pakistanis who wanted to achieve something in their life. He provides them opportunities by helping them in getting their visa so that they can study and work abroad and consequently become a better person in their life. 
Moreover, His famous saying is to be unstoppable in your life. It helps you in achieving your life goals. As a motivational speaker, he does a lot of work. He knows how to transform vision into a venture. 
In addition, he never takes his step back if someone tells him their problems. But he always works as a supporter and tries to give solutions to problems. Furthermore, he also makes motivational speeches and inspires others with his stories. 
The youngest generation is his main target because they are passionate about doing something. That's why he always tries his best to motivate the Pakistani generation. He also makes videos on Youtube and Instagram. 
So, that youth gets inspiration from his videos and work. As a result, achieve something in their life. He also gives short courses on how to become unstoppable in life. So, be like Fahad Khan and achieve your dreams with great struggle. 
Qaiser Abbas
Qaiser Abbas has established himself as one of Pakistan\'s top ten motivational speakers. He is an outstanding trainer, officer, and coach who has worked worldwide to improve the world. Qasim is ranked second in the country for the greatest motivational speaker, but he is also known to collaborate with inspiring and top global gurus such as Marshal Gold Smith has and Dave Ulrich.
He has written several publications; the most well-known is the \"Tick Tock Dollar.\" Qaisar not only helps people through his talks and counseling, but he also helps them through his writings.
Books written 
Mein Ishq Or Woh
Sar Utha Kay Jeo- For Success and Self Believe
Tick Tock Dollar- Peak Performance's 14 Principles
Outclass Teams- Secrets of Building a Strong and High-performing Team
Shabash Tum Kar Saktay Ho- Who Struggle in Life
Umair Jaliawala
He is the top trainer and motivational speaker in Pakistan, influencing many people. Umair\'s passion is to motivate and encourage others. He is, nonetheless, a prosperous entrepreneur by trade.
Umair founded \"The School of Leadership\" while he was only 17 years old and one of the motivational speakers in pakistan
He just started it because he understood how powerful human relationships are; nevertheless, he also believes that we are not hand-made or even man-made, but rather that God created us and we are his creations.
He interacts with a variety of corporate entities. He also works as a trainer and coach. His interests include marketing, philosophy, spirituality, and psychology. Umair seminars are worthwhile since they raise awareness for this life and motivate others. His specialties are integration, growth plans, marketing, restraint, and turnarounds.
Muniba Mazari
Muniba Mazari is a courageous and talented woman. She is Pakistan\'s first female motivational speaker. She is also a Pakistani model, artist, activist singer, social reformer, and television host. Muniba has won many hearts with her bravery and ability to speak her mind.
She is a brilliant Pakistani light who has overcome adversity in her life. Muniba was only 21 years old when she was involve in a serious accident, leaving her with a permanent impairment for the remainder of her life.
Furthermore, she is a strong woman who has never allowed her weaknesses to be exposed in front of society, and as a result, she is now well-known worldwide. Muniba is also a UN Women Pakistan national ambassador. She is, nonetheless, one of Pakistan\'s top motivational speakers.
Hammad Safi
Meet Hammad Safi, an 11-year-old motivational coach who has charmed Pakistan – DAWN.COM – Pakistan
Hammad Safi, the \'Nanha professor,\' is a youthful and outstanding motivational speaker. He is only 11 years old, but he is the world\'s youngest motivational speaker, not just in Pakistan. He lives in Pakistan\'s FATA region.
Rather than being a motivational speaker, Hammad describes himself as an inspirational speaker. This young boy inspires others by demonstrating that nothing is impossible or complicated if we believe it to be so. We should always think positively, as he always says, since if he can accomplish it, so can anyone.
Shaykh Atif Ahmed
He is a religious scholar of Islam in the Mahad ul Quran, Karachi, and a motivational speaker. He is also the CEO of the \'Al-Midrar Institute,\' a religious institute where he teaches spiritual economics and science and business skills.
Atif also teaches about overcoming obstacles in life and achieving one\'s objectives. He graduated from the University of Huston, although he is best known as the overseas pioneer\'s head of economics.
His motivational lectures have motivated the young generation to believe that they can achieve anything without fear of failure by adhering to spiritual ideals.
Tanzila Khan
Tanzila Khan is also a passionate and well-known Pakistani female motivational speaker. She is also an inspirational speaker with a multi-faceted personality. one of the motivational speakers in pakistan
Tanzila is also a writer, having publish a novel titled \"The Story of Mexico,\" a cross-cultural tale set in Mexico and England.
Sadaqat Ali
Sadaqat Ali Sadaqat was born in Lahore and graduate from Government College Lahore before moving to Karachi to continue his education at DOW Medical College.
His name was formally incorporate into the WHO, a worldwide directory of professionals, in 1999. He\'s also the author of several books on management and addictions.
Sadaqat Ali is one of Pakistan\'s most popular motivational speakers. He is a psychiatrist, author, and TV personality well-known for his addiction therapy.
Shahid Ullah
Shahid Ullah is a motivational speaker from the Pakistani province of KPK. He earned his bachelor\'s degree in BE-Electrical Engineering and various certificate courses and training.
He is a professional trainer and instructor who is also regard as one of the country\'s greatest motivational speakers.
Zaydan Khan
Zaydan is a Quetta native who now works as a training and development manager for the Aizen Development Foundation, a human rights organization. He is consider as one of the best motivational speakers in pakistan Zaydan is a motivational speaker who shares his personal experiences to motivate children. He is also a brand ambassador for several Pakistani apparel companies.