Major (r) Adil Raja, a former member of the armed forces, was give a non-bailable arrest warrant by a Pakistani court after failing to appear for offences involving criminal intimidation and breach of trust.
According to reports in the local media, Adil Raja, who is well-know for running his YouTube channel, is accuse of defrauding millions of dollars' worth of property and of making threats.
Civil judge Muhammad Shahab issued the warrants following the filing of an Adil Raja complaint at the Banni police station.
Also Read
Ishaq Dar reaches Pakistan along with Prime Minister Shehbaz Sharif
Authorities were also instruct to freeze his assets by the District and Sessions Court of Rawalpindi, including plots in affluent neighborhoods, automobiles, and a two-wheeler.
In response to the new situation, Raja state that nothing can be taken away from what Allah has ordained for him. He stepped up his rant against a strong quarter in a different piece.
  Non-bailable arrest warrants for ex-army officer Adil Raja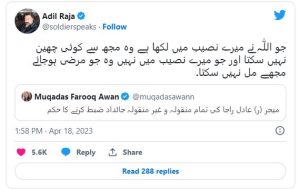 For the past few months, Adil Farooq Raja, a retired major in the Pakistani Army, has gained notoriety on social media. Adil Raja was born in Peshawar in 1978 to a Pakistan Army officer, Major (Retired) Umar Farooq Raja. He is a fervent admirer of ousted prime minister Imran Khan and a scathing critic of the country's military establishment. He left his home country out of fear of persecution while Gen. Bajwa was in office, and now he lives in the UK.