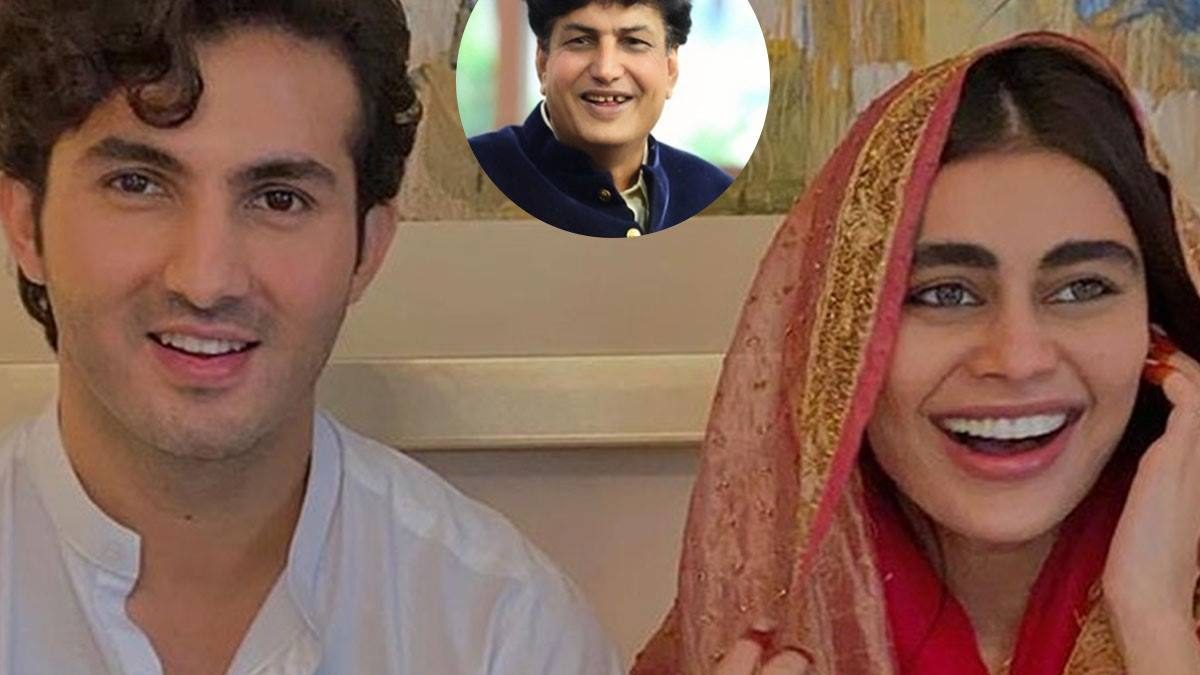 Pakistani actors Sadaf Kanwal and Shahroz Sabzwari tied the knot, months after rumours of their relationship had been rife on social media.
Photos of the couple's nikkah ceremony had been circulating on social media, and the news was confirmed after the model changed her name on Instagram from Sadaf Kanwal to Sadaf Sabzwari and also posted pictures from the intimate ceremony.
Syra and Shahroz Divorced
Now, you'll recall the initial drama round Syra and Shahroz calling it quits. Rumours circulated, and Shahroz addressed everything in a 5-minute clip posted at the end of last year, where he denied all divorce rumours and said that he and Syra had simply separated and not officially divorced.

Shahroz also mentioned Sadaf Kanwal in the clip and asked people to stop blaming her for this entire situation. He referred to her as simply a coworker that he had met merely a month ago and denied any involvement with her.
Eventually, a while after, Syra and Shahroz also officially announced their divorce.
Twitter Trend #SadafKanwal
However, there are many people who still don't support the two being together as there are many tweets criticizing the couple and their relationship and support Syra Yousuf through all of this. The two are trending with hashtag #SadafKanwal and #ShehrozSabzwari.
However, a few people were supporting them
Samra Saghir
Hey! I'm Samra and I'm a Freelance SEO Expert. This is my Blog Site where I create relevant and engaging content for a young, inquisitive, opinionated, empathetic, and bold audience.
Related posts
Subscribe for newsletter
* You will receive the latest news and updates on your favorite celebrities!
Marrying the right person, at the right time is important than marrying the wrong person at the 'perfect age
Marrying the right person, never the right time to marry the 'wrong' person! It just wastes valuable time and hurts everyone in the end. No one deserves that.No one the 'wrong person'! As far as marrying the 'right' person at the 'wrong' time life is…
44 Exercise at Home for Weight Loss
We all desire to stay fit, lose weight, and frankly, I am sure a lot of us have joined the gym as a part of every new year's resolution but eventually couldn't continue. Not because of lack of desire due to lack of time. If…
How to Boost Immune System? Vitamin D is Pivotal For Immune.
As the coronavirus pandemic continues to extend quarantines, shutdowns, and social distancing measures — many people are wondering how to keep themselves fit and healthy. In the situation of pandemic working from home, staying inside and social distancing is one way to protect yourself. Start…
How to Lose Weight in Limited Budget
Weight loss is on the mindset of many people, especially with a limited budget. People are allowed one form of exercise a day, & many are worried they will gain weight. Many of us may find it tough to best exercises to lose weight at…