Price of Ansha Afridi Wedding Lehenga: At the DHA Golf Club in Karachi on February 3, 2023, Ansha Afridi, the eldest child of Shahid Afridi, and Shaheen Shah Afridi, a fast bowler for the Pakistan cricket team, celebrated their nuptials.
Surprisingly, pictures of Pakistan's fast bowler Shaheen Shah Afridi kissing his wife on the forehead circulated on social media. Shaheen became frustrated because it's usually in Pakhtun families to refrain from posting pictures of women online. According to him, the widely shared photographs spoiled his particular day.
Price of Ansha Afridi Wedding Lehenga
People started looking for information about the dress and its designer when pictures of Shahid Afridi's daughter Ansha Afridi wearing her wedding dress went popular on social media. They were intereste in the price and production time. These queries might be observe in comments on social media.
Shadab Khan-Malika Saqlain are now husband and wife. See first pics from wedding
Please refrain from writing negative remarks on Shaheen Shah Afridi since this photo of him kissing his wife's forehead was shot after the nikkah.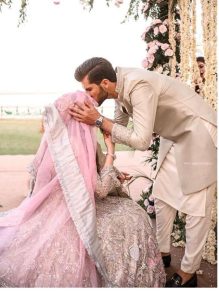 The cost of Ansha Afridi's stunning white and pink wedding lehenga was reveale.
Ansha, the bride of Shaheen Afridi, reportedly went with a lavish outfit designed by Republic Women's Wear by Sana Sikandar Khan. The contrast of pink and white was striking and had an effect. The intricately crafted dress, which cost PKR 800,000, is becoming popular for weddings.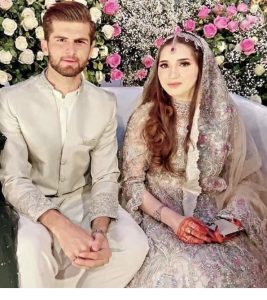 Shaheen Afridi spotted celebrating PSL8 victory with wife Ansha Afridi