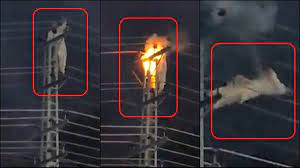 PTI worker electrocuted : An employee of Pakistan Tehreek-e-Insaf (PTI) was electrocuted to death after he climbed a pole in Rawalpindi as part of a demonstration over a shooting that injured party head, Imran Khan.
PTI worker electrocuted
Since Khan was shot in the right leg during an assassination attempt in the Wazirabad area while leading a long march against the Prime Minister Shehbaz Sharif administration, PTI members and supporters have been holding demonstrations in several cities, including Rawalpindi, Lahore, Karachi, and Peshawar.
PTI Long March | Female reporter of Channel 5 Sadaf died after falling under Imran Khan's container 
شمس آباد راولپنڈی میں تحریک انصاف کا کارکن احتجاج کے دوران کھمبے پر چڑھ گیا ۔ بے احتیاطی کی انتہا کہ کرنٹ لگنے سے زخمی ہوگیا اور ہسپتال منتقل کر دیا گیا۔ pic.twitter.com/4jXpmyyqka

— Malik Ali Raza (@MalikAliiRaza) November 7, 2022
In a video posted to social media, a heated protester is show clambering up a tall pole while being applaud by other PTI supporters who are see filming him.
Immediately after climbing the pole and waving his hand at the other protesters, the man can also be see tumbling straight to the ground.
The cantonment city\'s Shamsabad region is where the event allegedly took place.