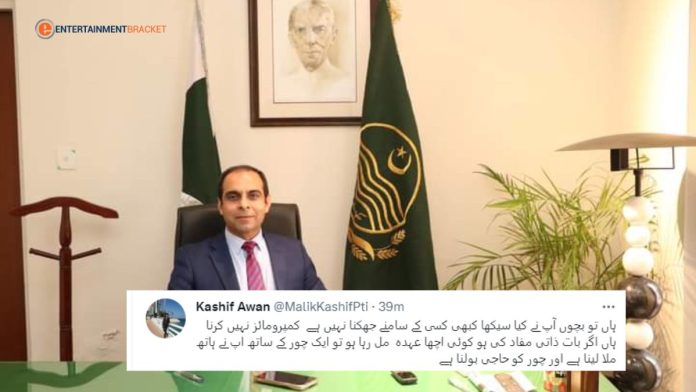 Qasim Ali Shah appointed as Chairman Alhamra Arts Council's BoG: Famous educationalist and motivational speaker Qasim Ali Shah continues to grab attention after making divisive remarks about PTI leader Imran Khan.
Qasim Ali Shah has been appointed Chairman Board of Governors of the Lahore Arts Council. However, the well-known motivational speaker is still dealing with the fury of PTI supporters for his criticism of the previous prime minister.
Shah posted the news on social media. He is show in the photo seate in his new Lahore Arts Council office.
His nomination by the ruling alliance's close ally and acting chief minister Mohsin Naqvi has draw controversy online. Because he was believe to be given the job because of his criticism of the PTI chairman.
Joined Alhumra Arts Council as Chairman
Alhumdulilah ❤️#Qasim_Ali_Shah#qasimalishah pic.twitter.com/4ytkr1HQep

— Qasim Ali Shah (@Official_QAS) February 22, 2023
This is the price of his speech!

*Qasim Ali Shah got his prize as being appointed Chairman of Lahore Art Council for 3 years#آئی_ایم_خان_اریسٹ_می@TeamiPians pic.twitter.com/AgOIK9K9EJ

— Mohammad Hayat ⁱᴾⁱᵃⁿ (@mofarooka) February 22, 2023
Who is Qasim Ali Shah?
Shah has written 12 books on various subjects and has been in charge of a science academy in Lahore for high school and intermediate students for the past 20 years. He introduced new teaching strategies and established the bar for contemporary learning methodologies.
His involvement with the Punjab Judicial Academy is well know. The Qasim Ali Shah Foundation has been training youth in Lahore since 2017. Qasim Ali Shah worked as a broadcaster and hosted the radio show Manzil Ka Musafir.