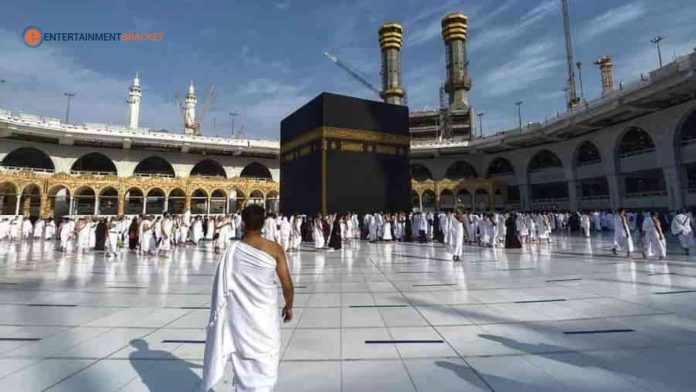 Registration for online Umrah visas: For quick online visa issuance. Saudi Arabia is considering providing a new registration facility to Umrah pilgrims.
According to a report from the Ministry of Hajj and Umrah, travelers from five nations could apply for visas online. Using the Saudi Visa Bio app, utilizing their "bio-signature characteristics." The five nations are Kuwait, Bangladesh, Malaysia, Tunisia, and the United Kingdom.
Fake Video of Snowfall in Kaaba Goes Viral
The action is a part of a larger plan by the government to make it easier for pilgrims to get to two of Islam's holiest locations. Also include in the "individual pilgrim" service are the permissions need to perform Umrah and to pray in the Roza Sharif. The site of the Prophet Mohammed's (PBUH) grave. The Nusuk app can be use for this.
As the first nation to permit visa applicants to register such details using a smartphone. Saudi Arabia is taking the lead in the process's digitalization.
According to the measures, the Saudi Press Agency confirmed that pilgrims could complete the application for an Umrah visa electronically before arriving in Makkah and Madinah.
The ministry also disclosed plans for a thorough insurance program for Hajj and Umrah pilgrims, covering unexpected medical expenses, Covid-19 illnesses, fatalities, and flight issues.
In the meantime, registration for this year's Hajj by pilgrims from within. The Kingdom is now open, with prices beginning at SR3,984 for a basic package.
The ministry announced that Saudi citizens and residents wishing to participate in the Hajj in 2023 may now submit applications via its website and the Nusuk app.
For domestic pilgrims, the ministry has announced a total of four packages. The first package ranges in price from $10,596 to $11,841—the second costs between $8,092 and $8,458. The third package costs $13,150. The pilgrims can receive affordable services through the fourth basic package mentioned above. Value-added tax is include in all prices (VAT).
Doors of Kaaba Opened For Pakistan Army chief as He Performs Umrah