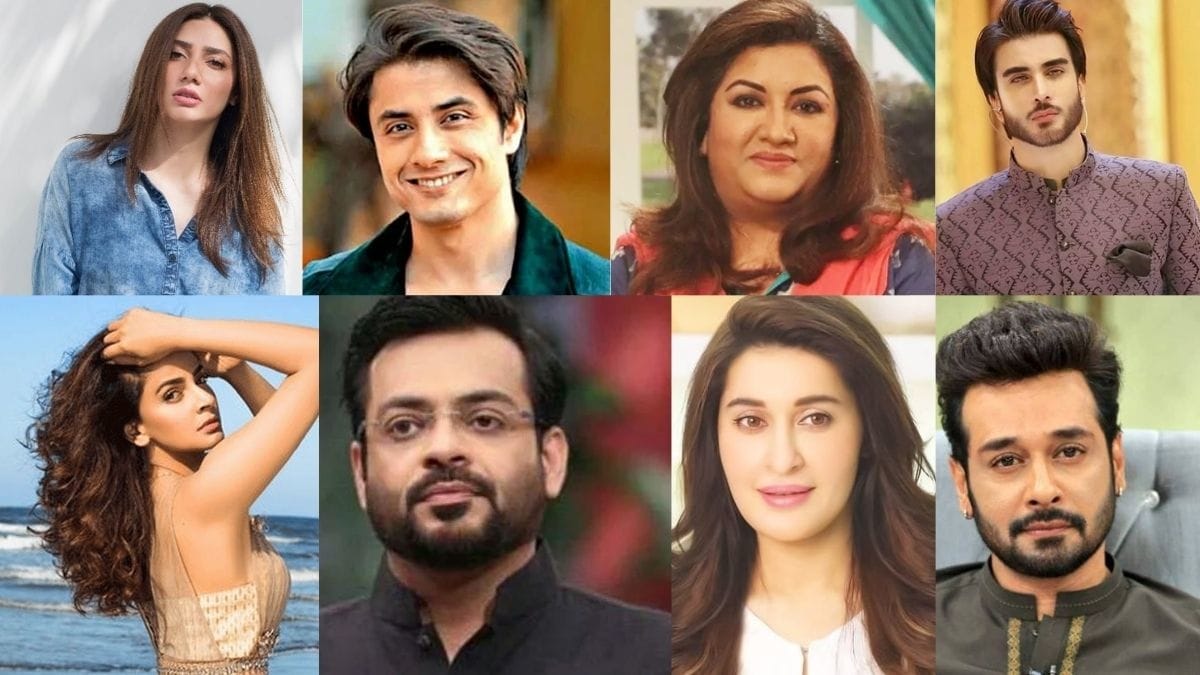 Pakistan\'s entertainment industry is house to some of the world\'s best actors, TV hosts, models, and singers. It\'s simple to figure out which celebrities are the most talented by looking at the projects they\'re working on and the results of their partnerships. However, knowing which celebrities make the most money from their initiatives is difficult. We\'ve prepared a list of the top 10 richest Pakistani celebrities for 2023 
Top 10 Highest Paid Bollywood Actress 2022
Ali Zafar releases First Single "Maula" from album "Husn"
Fawad Khan
One of the most renowned male actors in Pakistani media, Fawad Khan, began his career as one of the lead vocalists of Entity Paradigm (EP), a popular pop music band in the early 2000s. He later began to appear in television dramas. In his career, the drama serial \"Hum Safar\" marked a key turning point. Fawad Khan is a very attractive actor who has acted in several Bollywood films. He is one of the richest Pakistani celebrities.
Net Worth: $6 Million
Shaan Shahid
Shaan Shahid has worked in the film and television industry for more than 30 years. He is now an experienced actor, model, producer, screenwriter, and filmmaker. He did a fantastic job as the lead in the hit film Khuda Kay Liye. This Pakistani celebrity has also received numerous accolades. Shaan Shahid has one of the richest Pakistani celebrities.
Net Worth: $20 Million
Saba Qamar
Saba Qamar is a skilled Pakistani actress who has worked in both the Bollywood and Lollywood film industries. The actress now lives in luxury and continues to establish a reputation for herself by signing additional films.
Net worth $3 million 
Dr Amir Liaquat 
Dr Amir Liaquat is a name that requires no introduction. For many years, he was the host of Aalim Online, a religious show broadcast on a major television network. He is a politician as well as a television host. Dr Amir Liaquat has recently been the target of numerous issues and has received widespread criticism for his inappropriate words and behaviour on live television appearances, particularly during Ramadan transmissions. Despite the hostility surrounding him and his career, he has managed to become one of Pakistan\'s most well-known and richest Pakistani celebrities.
Net Worth: $1 Million – $5 Million
Shaista Lodhi
Another well-known figure in the entertainment sector is Shaista Lodhi. She\'s a well-known actress and television host. Shaista Lodhi is well-known for anchoring many morning programmes on various stations. During her time as a TV anchor, she also hosted Ramadan transmissions. Shaista Lodhi is Sahir Lodhi\'s sister, who is also a well-known TV personality. She has a sizable fan base not just in Pakistan but also internationally. She is one of the richest Pakistani celebrities according to our ranking.
Net Worth: $1 Million – $5 Million
Faisal Qureshi
The experienced actor began his acting career in sitcoms. Faisal Qureshi has become a hugely recognised star thanks to his incredible acting abilities. Faisal Qureshi has a wide range of skills. In recent years, he has also begun hosting television shows, which has added to his celebrity. He debuted as a kid performer in the early 1990s. Faisal Qureshi has worked in the sector for nearly three decades. 
Net Worth: $1 Million – $5 Million
Mahira Khan
Mahira Khan is another well-known actress in Pakistan\'s entertainment business. She has starred in several successful television series and films, making her a well-known international figure. She also co-starred with Fawad Khan in the film Hum Safar as a lead actor. It was one of the most popular drama serials on Pakistani television.
Thanks to her enormous popularity, Mahira Khan made history as the first Pakistani actress to star with Bollywood\'s King Shahrukh Khan in an Indian film. She is now one of the richest Pakistani celebrities.
Net Worth: $6 Million
Also Read: Top 20 Pakistani Singers List 
Imran Abbas
Imran Abbas, the guy with the exceptionally photogenic face, is one of Pakistan\'s most popular TV and cinema performers. He has also appeared in several well-known dramas, television episodes, telefilms, and films. Imran Abbas is a Pakistani actor who has made appearances in Bollywood films. In the Indian horror film \'Creature,\' he played the lead role.
Net Worth: $2 million
Ali Zafar
Ali Zafar is one of Pakistan\'s most well-known vocalists. He has also hosted shows, appeared in TV commercials, dramas, and movies over his media career. He has also appeared in a number of Indian films. In the film \'Mere Brother Ki Dulhan,\' the Pakistani superstar starred alongside Katrina Kaif. Ali Zafar is one of the richest Pakistani celebrities.
Net Worth: $16 Million
Hina Dilpazeer
Hina Dilpazeer\'s name conjures up images of Momo from Bulbulay, one of Pakistan\'s most renowned sitcoms. She is a tremendously gifted actor. Hina Dilpazeer has managed to play numerous characters in \'Qudoosi Sahab Ki Bewa,\' a comedy-drama serial. She has worked in the television industry for almost a decade and has achieved a great deal of success in a short period. Hina Dilpazeer has risen to become one of the richest Pakistani celebrities
 Net Worth: $1.5 million