Shadab Khan Malika Saqlain wedding: It has now been confirme that the rumor going around on social media for several days is false. Shadab Khan's Barat ceremony is taking place in his hometown, and he is now legally wed. Malika Saqlain, the daughter of renowned leg-spinner and former captain of the Pakistan cricket team Saqlain Mushtaq, is the lucky bride. The delighted couple got marriage.
Price of Ansha Afridi Gorgeous White & Pink Wedding Lehenga
The families of Shadab Khan and Saqlain Mushtaq have ask that no photos from. Their wedding be post online because they value purdah (the veil) and religious beliefs. The couple has made a firm request to their wedding guests not to snap photos or use their cellphones during the occasion to honor their values. The wedding is kept private to protect the sacredness of the event and guarantee that the couple's religious principles are honore.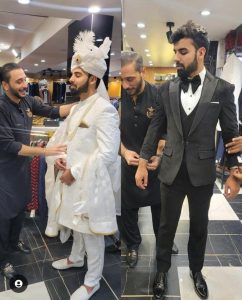 Shadab Khan Malika Saqlain wedding
Shadab Khan began playing cricket internationally in 2017 for the Pakistani national team. He has earned a great reputation among the squad thanks to his outstanding batting and bowling performances. He is the captain of IU and plays for them in the Pakistan Super League (PSL).
Shadab Khan at his wedding reception happening now
View this post on Instagram
View this post on Instagram
Malika Saqlain, the oldest daughter of Saqlain Mushtaq, is the subject of little information. The Mushtaq family maintains a low profile and refrains from participating in public. Or social activities according to their Islamic views, despite her prominence on social media. Success is ultimately define by Allah and the principles of faith for you and I.
Please see the links below for the wedding photos of Pakistani cricketer Shadab Khan and Malika Saqlain, Saqlain Mushtaq's daughter!