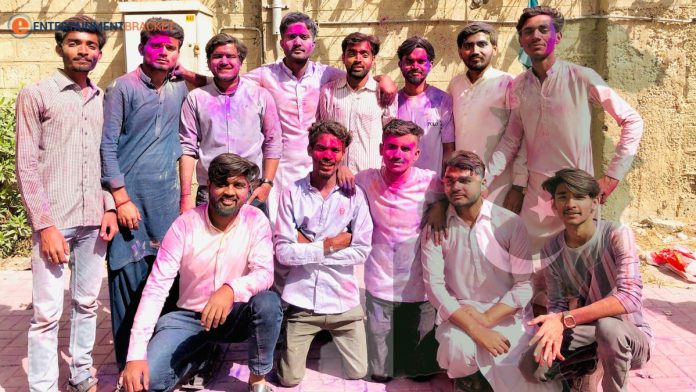 Students of BBS University Lyari Celebrated the Holi : Holi is a popular ancient Hindu festival, also known as the "Festival of Love", the "Festival of Colors", and the "Festival of Spring". It is also a festival that celebrates the triumph of good over evil. It is a playful, joyous cultural event with singing and dancing and people throwing colored powder and water balloons at each other. The Holi Festivals celebrated across the world are a uniting factor that cut across religious or cultural lines.
LUMS Students Spark Outrage For Celebrating Bollywood Day
Sindh is the land of Love, Peace, and Harmony where different religious backgrounds are living peacefully since hundreds of years.
The Benazir Bhutto Shaheed University Lyari Karachi students celebrated the festival with much fervour and enthusiasm – and netizens love it. where all religions and religious values are celebrated with equal respect, and students are seen singing and dancing in circles – all smeared with colors. Students all dressed in white, celebrated Holi by coloring each other's faces and filling the air with colors. The entire university staff participated to celebrate peace and harmony between different faiths. Students also danced to the tunes of various songs.
Professor Dr. Mazhar Ali Datioo said that they were enjoying the festival and it gives them a joy to be part of this celebration, bringing the message of peace, harmony, and love among the communities. Dr. Mazhar also said this sends a message to the world that Pakistan is a peaceful country where people of different religions can freely celebrate their religious festivals.
Avinash Chouhan told that today was the festival of color, enjoyment and music. When we throw color on one another, it is an act of showering love upon our friends, relatives, and the whole community, he also said that that Hindus and Muslims over here always celebrate such festivals without any discrimination and that attending them is always a positive experience. The message was definitely that of harmony and national unity.