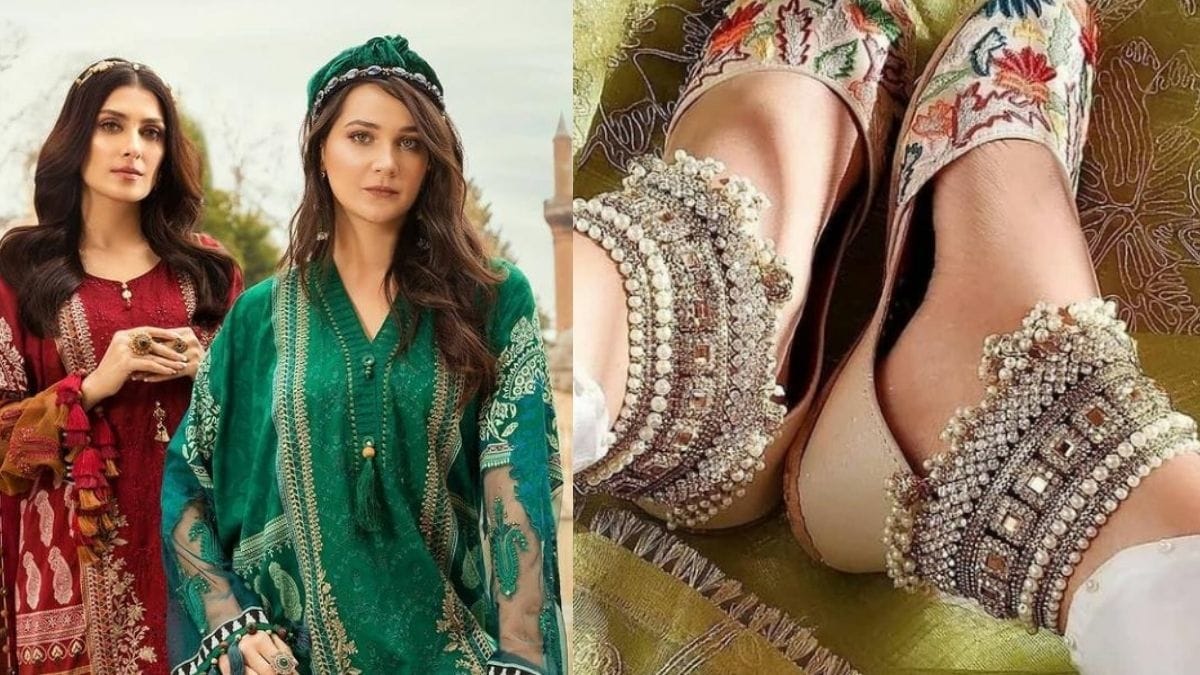 Summer Fashion Trend For Pakistani Women In 2022
Entertainment Bracket, 1 year ago
0
3 min

read
3371
Girls be ready for summer! This year summer coming with some classic fashion trends. The latest Pakistani fashion trend in 2021 is just important as human beings because everyone wants to wear nice clothes.  Girls want their clothes to be fashionable and pleasant.
1 – Blod Colour Latest Summer Fashion Trend
Get ready to catch up with the bold color this summer season. Every woman and fashion lover has been looking forward to catching the light and bold. colors. This year's combination of bold and light color.
2 – Long Shirts and Short Shirt
Girls like me do not prefer to wear short shirts. this year shorts and long shirts both are fashion trend 2021. You can find the shirts at your desired length and style. In addition, long and short shirts have become a trend.
Also Read: Pakistan Fashion Industry Destroy Our Islamic Value 
3 – Statement Dupattas
The dupattas have been a great addition to luxury dresses. Soft look dupattas with the heavy shirt. Dupattas make your outfit perfect. Whether you have a plain dress or something heavy, a statement dupatta will elevate your overall look.
4 – Smaller Hand Bags
This summer mini bags are ruling. The color may be bright or light but to be the pocket size. This year small handbags go with every clothing trend. Although handbags saving our lives for many years, carrying the handbags so-important thing that somehow needs to be with us whenever we go out of the house.
5 – Wearing Jewelry Like Desi Queen
Jewelry has been an important adornment for women all around the world since forever. Jewelry makes women look elegant and beautiful but also makes them more confident. Wearing perfect jewelry according to your dress adds extra value to your beauty. They are many choices for these days that often get confused by it necklaces, earnings, bracelets or rings all type of jewelry play important role in looks and appearance if women. this year Fashion Trend of some traditional jewelry.
6 – Banars and Chunri prints For Summer Wear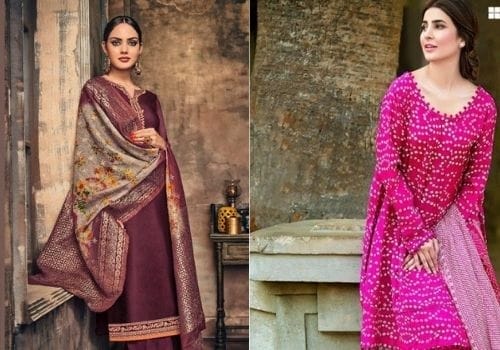 The most prints amongst all the latest lawn collections were the ones the banarsi and chuniri as they're popular once again. In past, Banarsi prints were only limited to saris or special Occasions while chunri was something people would wear on mehndi functions but seeing them in casual everyday outfits is surely a delight.
Also Read: Anam & Irumz Party Wear Dresses New Collections 2021 With Price 
7 – Peek A Boo Trousers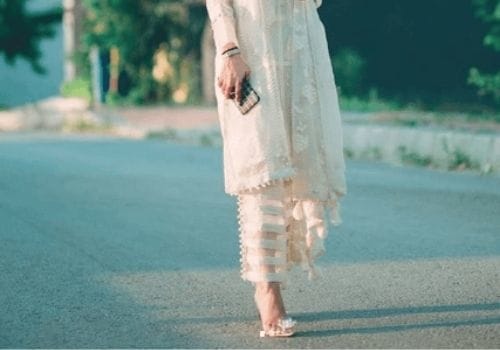 You can find them pretty much any renowned fashion brand like Khaadi, sapphire, and many other brands. They are also available in different styles including cigarette pants and baggy trousers. It generally organza attached to them in different designs so the legs are slightly visible through the trouser.
8 – Western Fusion Outfit
Jeans and Kurtis is an evergreen trend. The latest fusion of eastern and western wear. You can make pair of skinny jeans with an embroidery kurta. This is the new fashion trend of 2021.
9 – Khussa With pazab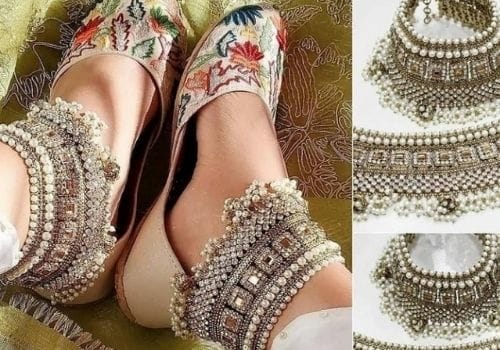 Khussa in trend from last year but this year's fusion with pazab. It gives you an elegant and smart look. Simple and stylish this fusion of khusa with pazab.
10 – Best Colous Of This Summer
This summer white outfit is the new fashion trend of summer. Lite yellow and white fusion new trend color. White is the icon color of all the seasons. If you think white is a boring color twice thing again it's the color of life and changes your mood.
Also Read: jewelry trend for 2021 in Pakistan 
Latest Mehndi Designs For All Seasons and Occasions: Mehndi designs for bridal
Entertainment Bracket
Hey! I'm Samra and I'm a Freelance SEO Expert. This is my Blog Site where I create relevant and engaging content for a young, inquisitive, opinionated, empathetic, and bold audience.
Related posts
Impact of women's health on economy in developing countries
The World Bank funded research on international development in 1933. The study "Investing in Health" revealed the findings. The importance of health was determined to be vital for the advancement of society as a whole as well as for the quality of life of an…
Weight Loss Drink: If you want to get rid of obesity, then consume these drinks daily!
Best Weight Loss Drink: For individuals concerned about obesity, losing weight may be the hardest thing to do. But let go of the notion that you are unable to reduce weight. Losing weight can be challenging, but you also have the power to Reduce Fat. To…