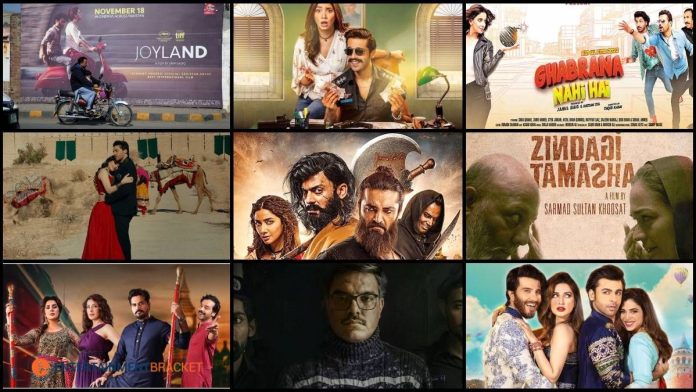 The local cinema industry has experienced a sharp downturn over the years. Still, it has managed to rebound by producing some blockbusters that span a variety of genres. But the majority of the storylines still center on romantic comedies. Top 10 Best Pakistani Movies in 2022.
7 Pakistani Movies You Need To Watch At Least Once In Your Lifetime
Salman Khan And His 24 Year Old Girlfriend Shocking Details Revealed!
The Top 10 Pakistani Films of 2022 are list below.
The Maula Jatt Legend
Since its release in October 2022, The Legend of Maula Jatt has seen considerable success and deserves the top rank among. The Top 10 Best Pakistani Movies of 2022. The movie is an adaptation of the 1979 cult hit Maula Jatt, directed and write by Bilal Lashari and co-writer Nasir Adeeb.
The Legend of Maula Jatt, produced by Ammara Hikmat and Asad Jamil Khan under the auspices of Lashari Films and Encyclopedia. Features Fawad Khan, Hamza Ali Abbasi, Mahira Khan, and Humaima Malik among its leading actors.
The rivalry between the Natts and Jatts, and more notably Maula Jatt, an undefeated fighter raised by Daani. After the Natts killed his parents as a youngster, left him with nightmare flashbacks of his past, is the focus of the film's plot.
Noori Natt, Maula Jatt's long-time adversary and one of the most feared warriors in all of Punjab. Is today's target of her vengeance.
Joyland
Joyland, mired in controversy, is another picture that merits inclusion on the list due to its enormous popularity locally and worldwide after being Pakistan's first entry at the Cannes Film Festival and earning numerous other accolades there.
Movie, written and directed by Saim Siddiqui, is this year's Oscar contender for Pakistan. The film, which Sarmad Khoosat produced, addresses the issue of transgender rights in Pakistan. The story of the youngest son in a patriarchal household, who is expect to have a son with his wife, is at the center of the movie.
Ultimately, he joins an erotic dancing company and falls in love with a transgender woman.
The film was once prohibited from being released in the nation because of its plot, which was deem "immoral" and "inappropriate." Now, however, it is regard as a masterpiece by those in the entertainment business.
However, following intense criticism of the restriction, the government ultimately established a review committee and permitted the film's nationwide release.
Ali Junejo, Rasti Farooq, Alina Khan, Sarwat Gillani, Salman Peerzada, Sohail Sameer, and Sania Saeed are among the actors who appear in movie.
Tich Button
Tich Button, starring Farhan Saeed and Iman Ali, was just released after a lengthy delay of over two years owing to the COVID-19 outbreak, and it has already establish itself as a smash hit on the big screen.
The film, written and directed by Faiza Iftikhar, is a traditional rom-com that centers on a Lahore-based Punjabi family. The movie shows us the importance of love, compassion, trust, and generosity in relationships.
The movie, produced by Salman Iqbal and Urwa Hocane, stars Farhan Saeed, Iman Ali, Feroze Khan, Sonya Hussyn, and several other well-known actors.
Chakkar
Ahsan Khan, Neelam Muneer, Yasir Nawaz, and Javed Sheikh are among the well-know. Actors who appear in the 2022 Pakistani murder mystery Chakkar, directed by Yasir Nawaz and written by Syed Jibran. The movie, made by Nida Yasir, is about two identical sisters: Mehreen, who is marriege to Kabir and has a quiet household life, and Zara, who leads the life of a famous movie actress.
In the film, Zara proposes that the two sisters trade places so they can experience what it's like to live the lives of the other. But when a murder occurs and is followed by false charges, police pursuits, and gunfire, things don't go as planned.
London Nahi Jaunga
London Nahi Jaunga, a movie directed by Nadeem Baig and written by Khalil-ur-Rehman Qamar, asks a lot of concerns concerning women's freedom of choice and focuses on providing some answers.
The movie's main character is a British girl named Zara, whose life is turne upside down. When she discovers her father was brutally murdered due to a love marriage and obtains a copy of her mother's diary.
Humayun Saeed, who also stars in the film as a lead actor alongside Mehwish Hayat, Kubra Khan, Iffat Omar, Mehar Bano, Saba Faisal, and other cast members, is the producer of London Nahi Jaunga.
Quaid-e-Azam Zindabad
Quaid-e-Azam Zindabad, made by Mehdi Ali and Fizza Ali Mirza under the auspices of Filmwala Pictures and starred Fahad Mustafa, Mahira Khan, Jawed Sheikh, and Faryal Mehmood, is another movie that made the list of the Top 10 Best Pakistani Movies in 2022. The story, which Nabeel Qureshi both directe and wrote. Centers on Gulab, a crooked police officer due to his upbringing and the bullying he experienced, who falls in love with Jia, whose phone was stolen while she was rescuing animals.
Zindagi Tamasha
Despite being scheduled for release on November 4, 2022, Zindagi Tamasha, directed by Sarmad Khoosat and produce by Kanwal Khoosat. Has not yet been shown in Pakistan due to Tehreek-e-Labbaik (TLP) Pakistan's objections to the movie's content.
The story of Rahat, who creates, composes, and records hymns glorifying the Holy Prophet, is told in the movie written by Nirmal Bano (PBUH). In addition, Rahat cares for his invalid wife and is a respected member of society. His life, however, takes an unexpected turn when he performs some dance routines during the wedding of his friend's son.
Arif Hassan, Samiya Mumtaz, Eman Suleman, and Ali Kureshi are all actors in the production.
Ghabrana Nahi HaiA girl who seeks justice for her father in the novel Ghabrana Nahi Hai finds herself in a love triangle with a police officer and her cousin. Saba Qamar, Zahid Ahmed, Nayyar Ejaz, Syed Jibran, and Afzal Khan are among the movie's cast members.Which was direct by Saqib Khan and produce by Hassan Zia and Mohsin Khan.
Javed Iqbal: A Serial Killer's Untold Story
A real-life serial killer from the 1990s who sexually assaulted and kill. More than 100 children in Lahore is the subject of the film Javed Iqbal – The Untold Story of A Serial Killer. The Central Board of Film Censors canceled the movie one day before its scheduled release. It was directed, write, and produce by Javed Ahmed and Abu Aleeha.
Best Pakistani Films, Best Pakistani Movies, and Top Pakistani Movies
The Untold Story of a Serial Killer: Javed Iqbal
However, the movie receive favorable reviews worldwide and was chose for the Berlin Film Festival.
Yasir Hussain and Ayesha Omar play the key actors in the film.
Dum Mastam
Dam Mastam, a film by Mohammad Ehtesham-ud-Din and Amar Khan. Centers on the romance of Aliya and Bao, two childhood sweethearts. Amar Khan, Imran Ashraf, Sohail Ahmed, Uzma Baig, Tahira Imam, and Saife Hassan. Feature in the Adnan Siddiqui-produced movie distributed by Cereal Entertainment.
What do you think of the Top 10 Pakistani Movies / Films for 2022?