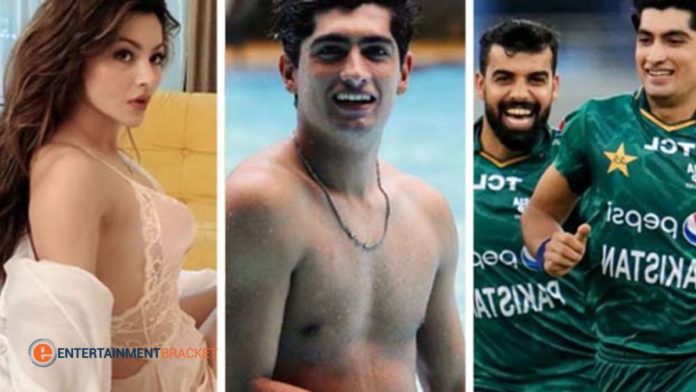 The Pakistani international cricket team has benefited greatly from the skills of Naseem Shah, a highly adept fast bowler. He is not only a brilliant athlete, but he also has a good look. He has become a vital member of the national cricket squad thanks to his remarkable bowling and batting skills, and he has been instrumental in helping Pakistan secure several important international triumphs. Shah has been chosen as the brand ambassador for the renowned firm Gillette in honor of his accomplishments and reputation, which speaks to his authority and influence on and off the cricket field. Urvashi Rautela sends birthday love to Pakistani cricketer Naseem Shah
Cricketer "Naseem Shah Ki Deewani" Urvashi Rautela spent Rs 93 lakh on her 29th birthday
Urvashi Rautela sends birthday love to Pakistani cricketer Naseem Shah
There was media attention surrounding a fan-edited film that Bollywood actress Urvashi Rautela posted showing Naseem Shah and herself during the last T20 World Cup. Shah denied knowing who Rautela was when a reporter enquired about the video. But he then responded to Rautela's criticism of one of his social media posts. Despite his prior rejection of her, Rautela is still enamore by Shah's skills and charisma.
The Bollywood star wrote a birthday greeting and congrats to Shah on receiving the honorary rank of DSP from Balochistan Police in a remark on a photo of Pakistani cricketers Shadab Khan and Naseem Shah. Shah expressed his gratitude for the wishes of the Indian actress. A screenshot of Shah's official social media post that includes the image above of Shadab is include here. Please look at this: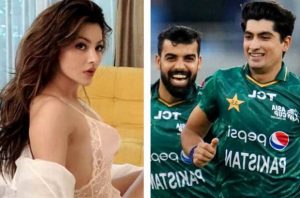 Some of Naseem Shah's admirers noticed Urvashi Rautela's comment on his social media post and started their comments. Many of them warned Shah to take precautions to protect himself because they were worrie about the prospect of a "honey trap." Even Shah's initial response to the Indian actress drew criticism from some.