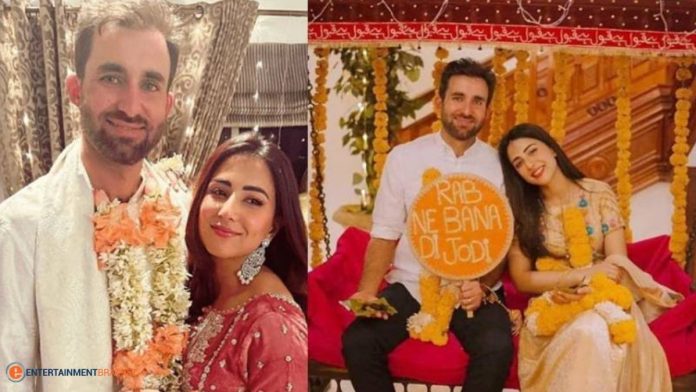 Ushna Shah Hamza Amin wedding festivities: Actress Ushna Shah, who will wed Hamza Amin, is the newest famous Pakistani to start glitzy wedding celebrations. The Balaa actress recently showed her Mayun outfit on Instagram. The upcoming bride was stunning in photos posted on photo-sharing apps wearing a golden gown and sparkling floral jewelry. Shah maintained a simple, dewy look while beaming with joy.
Ushna Shah Copy katrina kaif Wedding
Ushna Shah Hamza Amin wedding festivities
Ushna and Hamza may be seen seated next to one another during a pre-wedding ceremony in the most recent photos. She was seen wearing a white and black suit, and although blushing, she made a good impression.
The couple can be seen gazing at one other in one of the photos while admirers search for additional images from the occasion.
Shah just had a bachelorette celebration with her loved ones. The Parizaad actress looked nothing short of divine in her white gown of choice for the event. Images from private gatherings have been making the rounds on the internet.
Shah has recently appeared in several films, including Pinky Ka Dulha, Bewafa, Dikhawa, Bandhay Aik Dor Se, Aakhir Kab Tak, Parizaad, and Habs.