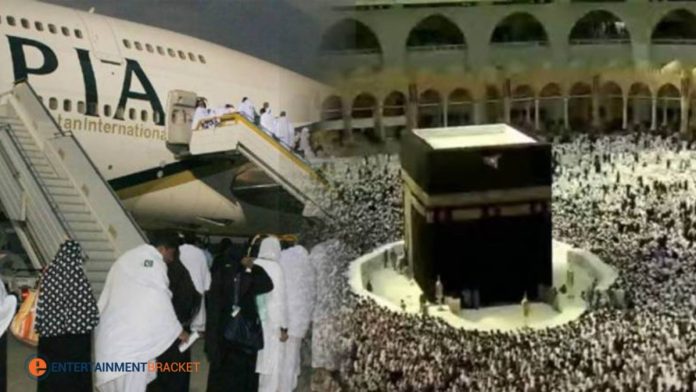 What is the cost of Hajj for private tour: The Pakistani government has set the price for pilgrims planning to perform the Hajj through private tour operators.
The maximum cost under the private Hajj scheme would be above Rs 32,50,000. In contrast, the least cost would be Rs 11,80,000, according to information provided by the Assistant Secretary of the Ministry of Religious Affairs on Monday.
All You Need to Know About Flight Schedule for Hajj 2023
Aftab Durrani state, "12 packages have been offer to private Hajj operators". He emphasize that those who disregar the set rules and regulations will be held accountable and that the ministry has develop a system for punishing offenders.
The official added that people who conduct the Islamic ritual under the private plan land in Saudi Arabia close to Hajj, and at that time, the cost of high-end hotels increases, that those who want more services would also need to pay more.
Govt receives over 72,000 applications under regular Hajj scheme as deadline nears
Pakistan has a quota of 179,210 pilgrims for the Hajj in 2023. For the first time since Covid. The Saudi Arabian government has increase the number of pilgrims.
It is important to note that a 50% quota has been set aside for the Sponsorship Scheme. A unique service provide to Hajj pilgrims looking to get foreign currency from overseas through the designated dollar account of the Religious Affairs Ministry.
It is important to note that once the pandemic travel restrictions were relax. Saudi Arabia now accepts pilgrims in significant numbers, roughly 2.3. One million individuals participated in the 2022 Hajj season. However, only those between 18 and 65 who had completed their immunizations against the virus and had no chronic illnesses could travel to the kingdom.
Pakistan extended the deadline for submitting Hajj applications for the standard Hajj plan to April 2. While the deadline for the Sponsorship Program will conclude on April 9 due to problems with the transfer of funds under the latter.
The Sponsorship Hajj Program will declare the applicants successful without conducting a draw. However, per the terms of the program, cash must be transfer via wire transfer. Or telegraphic transfer (TT) to the Ministry of Religious Affairs account.