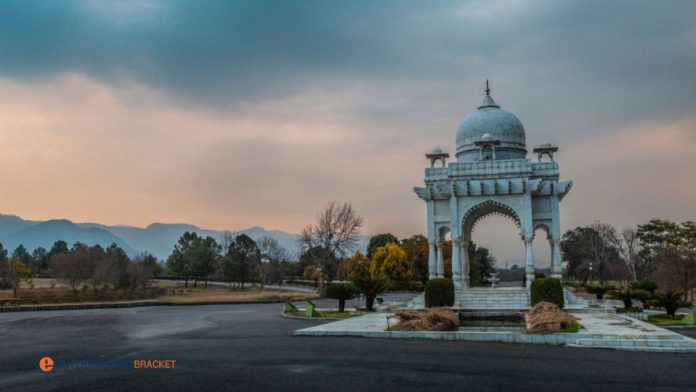 Popular natural features may be found in Pakistan\'s lovely capital city of Islamabad, including the stunning but challenging Margalla Hills trails, monuments, historical sites, parks, and recreational areas. Islamabad is renowned for its serene ambience and parks where you can get a sense of being in touch with nature. Some of Best Parks in Islamabad are listed here.
Shakarparian National Park
Shakarparian National Park is known for its beautiful scenery. The park is Islamabad\'s oldest tourist destination and is situated among the lovely Shakarparian Hills. Popular star and crescent monuments and several rest areas can be found in the park. The area has benches where you can sit and admire the lovely scenery.
Shakarparian Park is significant because of its location. The well-known Pakistan Monument and Lok Virsa are accessible from the park. Additionally, its expansive, tiered gardens at the height of 609 metres provide vistas of the entire tree-lined metropolis. Shakarparian Hills offer a stunning perspective of Islamabad\'s shining light at night.
People can also go to nearby restaurants Yogi Haus and 1969, for drinks. Additionally, there are well-kept walking and jogging paths for visitors to enjoy a lovely evening. Shakarparian is also accessible via Margalla Hills Trail 2. The old Gakhars tribe leaders who lived there before the division provide the park with some historical context.
Ghanta Ghar Faisalabad – History, Location and Other Details 
Lake View Park
The most well-known park in Islamabad, Lake View Park, is located in the centre of the city and offers the tranquilly of Rawal Dam, one of the biggest dams in the nation. A lake view park can be describe as an adventure park, a wildlife park, and a regular park all rolled into one.
F1 Traxx, the park\'s miniature amusement park, offers thrilling rides for visitors of all ages. There are many different species of birds in its sizable collection in the largest birdcage. Rawal Dam is the park\'s most enjoyable feature. You can appreciate the lovely and peaceful environment while boating.
You can have a picnic with friends and family at Lake View Park. If you enjoy adventure, take advantage of the park\'s rides. Holidays or festivals like Eid typically bring a large audience to the park. For refreshments, the park also has a few little eateries.
Fatima Jinnah Park
Islamabad\'s F9 Park, which has distinct designate spaces for jogging and running, kids, and toddlers, an open-air gym, and much more, is carpete over the entire F9 sector.
It occupies a space of 750 acres and is one of Islamabad\'s well-known parks. It was built by Michael Japero and opene in 1992. Fatima Jinnah Park is renown for its recreational opportunities.
Children love the park for its wide variety of kid-friendly activities, which include swings, mazes, and many others. The magazine complex includes a sports area, pool, table tennis and snooker tables, arcade games, bowling, and laser tag.
For refreshments, there is a McDonald\'s in the park. Numerous national festivals are held at F9 Park as well. If you want to take a stroll or if your kids want to play, you can go to the park. Additionally, you may work out in the park or play football or cricket with your pals in the evening. There is also a distinct area in the establishment for toddlers.
Rose And Jasmine Garden
Another public park in Islamabad with sizable grounds and flowers is the Rose and Jasmine Garden. The park\'s beauty is enhance by the abundance of roses and jasmine that have grown there. You can jog on the lengthy tracks in the morning and in the evening.
On Kashmir Highway, the park is located close to the sports complex. Therefore, everyone may easily plan their picnic on the weekends. Rose and Jasmine Park should be your first pick if you\'re looking for a peaceful setting to unwind and connect with nature.
Islamabad\'s capital development authority is responsible for managing the park. The amenities consist of benches surrounded by lovely trees and vegetation, walking and running track, a café, and a cycle track. The park also occasionally holds flower fairs and exhibitions.
F1 Traxx Islamabad
F1 Traxx, located in Lake View Park, is one of Islamabad\'s top entertainment parks. Numerous daring rides are offer in a special section of Lake View Park. Go-karts, motion rides, quad bikes, the Ferris wheel, and many other exciting rides are available for your enjoyment.
Purchase an entry ticket, then take advantage of the many thrilling and adventurous rides available. For refreshments, there is a cafeteria in the park. Young folks frequently congregate there to ride various rides. Every ride has a unique ticket as well.
Winter Festival in Gilgit Baltistan – Date, Venue, and Duration