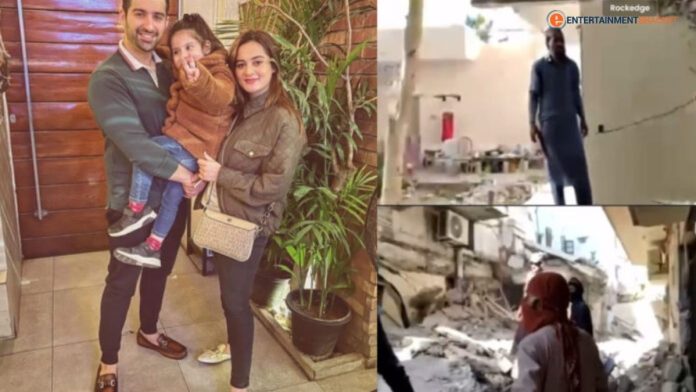 Aiman Khan and Muneeb Butt residence partially destroyed in gas explosion: The celebrity pair Aiman Khan and Muneeb Butt is one of the most adored in Pakistan. Their outstanding acting and modeling talents have helped them succeed in the entertainment sector. Aiman Khan has chosen to take a break from television shows after being married to Muneeb, and she is now focusing on her family and raising her daughter.
Hadiqa Kiani Tribute To Dirilis Ertugrul In Her Melodious Voice
Aiman Khan has branched out into the fashion industry in addition to her acting profession by establishing her online clothing line, A&M. Also, she routinely promotes different Pakistani companies on her Instagram page. Speaking of Aiman Khan's notable performances, the drama series Ishq Tamasha has greatly increased her popularity and critical recognition.
Aiman Khan and Muneeb Butt Residence partially destroyed in gas explosion
A horrible occurrence occurred at the recent home of the well-known Pakistani celebrities Aiman Khan and Muneeb Butt. According to reports, their home sustained significant damage due to a gas cylinder explosion. On several web platforms, footage of the explosion's aftermath is being share. The fallen front walls of the house prove that the explosion caused serious structural damage.
The house has sustained substantial damage, and large building sections have collapsed, as shown in the video clip. Fans of Aiman and Muneeb are understandably upset about the situation, and online repair attempts have start. Even though the pair haven't made an official remark about the incident's specifics, they have been praying for the actors' and their team's safety. The video clip, which has only been post by the We Are a Couple YouTube channel, shows that everyone involved is safe and that no casualties or injuries have been report.
Check out the footage and photos from this YouTube channel that was post after the explosion if you'd want to as well!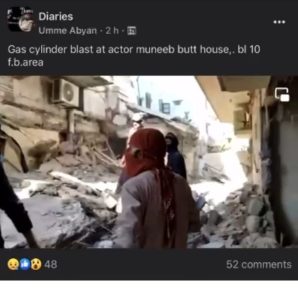 We ask Allah to protect the housewife who cooks, in the name of Allah, Ameen.
Aiman Khan and Muneeb Butt's home was largely destroy in a gas explosion.
According to a YouTube channel report, the images and video above show the interiors of Aiman Khan and Muneeb Butt's homes.