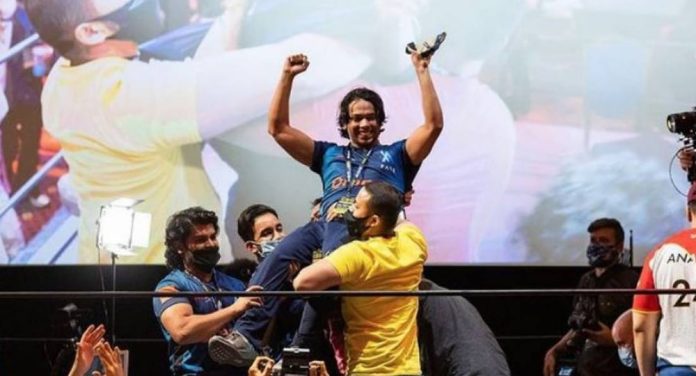 Arslan Ash, a well-known Pakistani e-gamer, has won the Combo Breaker 2022 title in the international Tekken 7 tournament.
In Tekken 7, the ace gamer held the top spot, but he placed third in The King of Fighters XIV. The 26-year-old faced up against his adversary RB Anakin and defeated him to earn a spot in the Grand Finale.
Arslan used his renowned Zafina to defeat DUSG\'s Gen in the Tekken 7 grand final. Winning 3-0 against his Japanese opponent in the three-day video gaming tournament.
Arslan reached the top three in KOF XIV but was eliminated in a close 2-3 set by Tamago in the losers\' final bracket.
Your #CB2022 Tekken 7 Top 8 Results:

1st: @arslanash95
2nd: @gen0202
3rd: @tk_anakin
4th: @sephiblack
5th: @rangchu123
5th: @shadow20z
7th: @pinya219
7th: @cuddle_core pic.twitter.com/NVHr3MEkMk

— COMBO BREAKER (@COMBOBREAKER) May 29, 2022
The ecstatic gamer took to social media to express his satisfaction at winning the Combo Breaker 2022. \"For Tekken, I won Combo Breaker. These events are extremely difficult. But I\'m thrill that my preparation is paying off. The event was incredible. Thank you to everyone who backed me up, and I hope to see you all at TWT! \"reads the caption.In his illustrious gaming career, the Pakistani e-sports champion has won three big titles: CEO 2021, Evo Japan 2019, and Evo 2019.
Atif Butt Wins Pakistan Biggest International Tekken Tournament
In 2019, Siddique was award ESPN\'s best e-sports player. After defeating Jae-Min \'Knee\' Bae in the 2019 Evolution Championship Series grand final, he went viral. He is the only player to win both the EVO Championship Japan and the EVO Championship America in the same year.