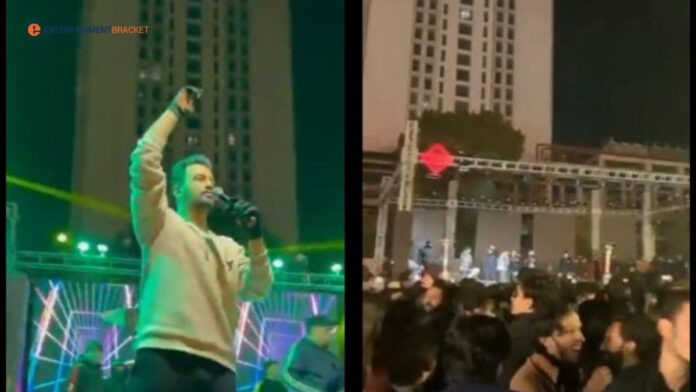 Pakistan celebrates the return to normalcy with large-scale events such as concerts and food festivals. TastePlus, the most recent food festival in Islamabad, went wrong, and Atif Aslam did something shocking as a result. Here\'s what happened:
Also Read: Esra Bilgic Leaked Video Has Gone Viral On Social Media 
The Event
This was one of many food festivals taking place in Islamabad. TastePLUS was the event\'s name, which took place over the weekend. The event was expecte to attract over 10,000 people, and as the videos show, it was not enjoyable. Even though big names like Mustafa Zahid and Atif Aslam were scheduled to perform for the crowd, the event was canceled.
What went wrong?
The gathering devolved into a riot. This was particularly unfortunate because people had waited long for the event, and Atif Aslam had left only 5 minutes into his performance. According to the video, a girl who had been harassed came onto the stage crying and told Atif Aslam what had happened. Following that, the singer met with his management and exited the stage.
Harassment in Public Places Is Increasing
These public gatherings demonstrate the incredibly concerning craziness men throng onto women. As stags find a way in, these events are devolving into massive stampedes, riots, and harassment hotspots.
It was the same at the recent RhythmFest in Lahore. The event was a disaster, to say the least, because there was no strict control over drugs and alcohol.
Also Read: Lookback Best Pop-Culture Moments of 2021
Have a look at the Tweets
Literally our community is no more than utter disgrace with zero ethics, harassment on it's peak, please avoid going to such public events with families, because these men will never stop, a long awaited concert turned into RIOT. #AtifAslam #TastePlus pic.twitter.com/KEzpNQwtPJ

— قاسم سلیمانی (@Qasemsolemani) December 11, 2021
Someone misbehaved with a girl from crowd and she came to Atif Aslam and he left the concert ❤️. Respect👏#AtifAslam #TastePlus pic.twitter.com/IioJyOGoJC

— Md Kamrul Hassan Emon (@EmonAadeez) December 12, 2021