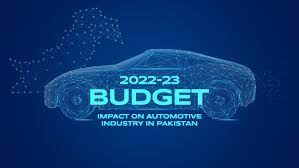 In the National Assembly, Finance Minister Miftah Ismail presented the Budget 2022-23. Which included some key items relating to the automobile industry. Such as a rise in Advance Tax on cars with engine capacity greater than 1,600cc.
During his address, Finance Minister Miftah Ismail stated that an increase in the Advance The on cars with engines larger than 1,600cc was proposed to shift the tax burden from the less fortunate to the affluent. Furthermore, the non-filer tax rate has been increased from 100% to 200 percent to encourage people to become filers and save money.
Furthermore, it was propose that the Advance Tax on Electric Vehicles (EVs) be increased to 2% of the vehicle\'s worth. However, if the vehicle\'s worth exceeds Rs. 5 million, the tax will increased to 3%. The Finance Bill said, \"Provided that in circumstances where engine capacity is not applicable, and the vehicle\'s value is Rs5 million or higher, the rate of tax collected shall be 3 percent of the import value.\"
List of Cars Affected by Federal Budget 2022-23
Toyota Corolla Altis Grande
Hyundai Elantra GLS
Sonata 2.0L
Hyundai Sonata 2.5L
Hyundai Tucson
Kia Sportage
BAIC BJ40 Plus
Toyota Fortuner
Kia Sorento
Toyota Hilux Revo
ISUZU D-Max
Changan Oshan X7
Honda Civic
DFSK Glory 580 Pro
Proton X70
Haval Jolion
Haval H6
It is important to note that this is merely the proposed Federal Budget for 2022-23, which will be debated by politicians in the National Assembly and Senate before passing. The Annual Budget 2022-23, if adopted, will impact several of the cars listed above, as they have engine capacity greater than 1600cc or a value greater than Rs. 5 million.