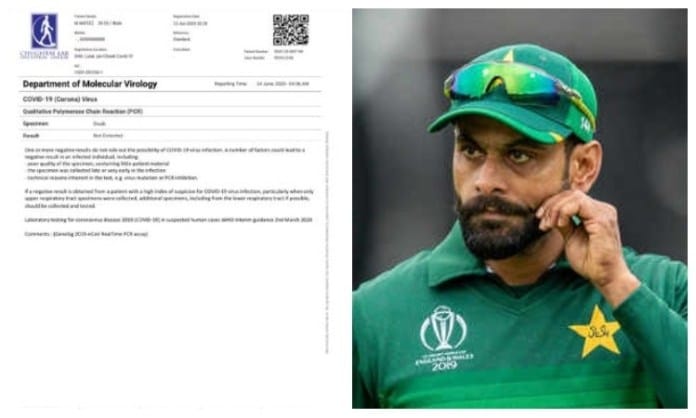 Cricketer Mohammad Hafeez Corona Test was First positive then Negative
Samra Saghir, 2 weeks ago
0
1 min

read
126
Pakistani cricketer Mohammad Hafeez, along with 6 other Pakistan cricket team members, was tested positive for coronavirus on Tuesday. However, soon after the result came out, Hafeez again got himself tested for his satisfaction. This time the reports came negative.

Hafeez shared the news on his Twitter that he went through another coronavirus test and had been tested negative. But, this has raised some serious questions on the authorities. How Pakistan Cricket Board (PCB) scheduled testing got positive results while the private hospital results came negative?
The PCB on Tuesday had said a total of 10 players, including Hafeez, had tested positive for the coronavirus ahead of Pakistan's tour to England.
Other players who tested positive for the virus include
Fakhar Zaman
Imran Khan
Kashif Bhatti
Mohammad Hasnain
Mohammad Rizwan
Wahab Riaz.
Apart from the seven players, one support personnel — the masseur — contracted the illness after the cricket body had 35 tests carried out for COVID-19 in Karachi, Lahore, and Peshawar
Mohammad Hafeez wrote that the report of the corona test conducted by the PCB yesterday was positive, but to his heart's content, he personally went with his family to undergo the test again. He shared the report and wrote that thanks to Allah, the result of the corona test of me and my family has been negative, may Allah protect us all.
Related posts
Subscribe for newsletter
* You will receive the latest news and updates on your favorite celebrities!
10 Things That Inevitably Happen When You're Girl Best Friend
Contrary to popular belief, it is possible for men and women to be just friends. If you and your girl best friend are the opposite genders, chances are everyone you meet assumes you're dating, your parents believe you're secretly together, and your friends all wonder…
Cosmetic Surgery Only Improves Your Features. it Does not Work on the Self image
Discovery of the "self image" represents a discovery in psychology and the field of a creative personality. The significance of the self image has recognized for more than a decade. Yet there has been little written about it. I discovered that when he changed a…
How to Reduce Depression During the Lockdown
Nowadays, the message is visible: #STAYHOME! Many countries are in Coronavirus. It is essential to understand that everyone reacts differently to stressful situations. So, while some may find it peaceful to stay holed up and not be bothered by the outside world for a while,…
44 Exercise at Home for Weight Loss
We all desire to stay fit, lose weight, and frankly, I am sure a lot of us have joined the gym as a part of every new year's resolution but eventually couldn't continue. Not because of lack of desire due to lack of time. If…
How to boost immune system? Vitamin D is pivotal for immune.
As the coronavirus pandemic continues to extend quarantines, shutdowns, and social distancing measures — many people are wondering how to keep themselves fit and healthy. In the situation of pandemic working from home, staying inside and social distancing is one way to protect yourself. Start…
How to Lose Weight in 21 Lockdown Days
Weight loss is on the mindset of many people, especially with coronavirus lockdown in full swing. People are allowed one form of exercise a day, & many are worried they will gain weight. Due to the coronavirus, the entire world is under 21 days lockdown….