Faisalabad: After allegedly claiming to be an Islamic prophet, a woman was taken into custody by the local police on blasphemy allegations. Faisalabad woman arrested for claiming to be a Prophet
Sanaullah, the woman, was apprehended from her home just after a crowd had gathered outside, calling for her to be lynched. Once word of her claimed prophetic pronouncements spread, the mob gathered.
Nasir Ali Rizvi, a senior police official, claims that the woman and two other persons were detained after a doctor approached local police and described the incident. He continued that she would be taken before a judge to answer for the accusation.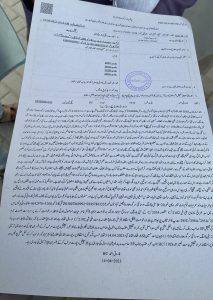 Pakistan's legal system applies the death penalty to anyone found guilty of blasphemy.
Conservative Muslim organisations in the nation have expressed shock and condemnation in response to the woman's apparent claims of prophethood.
It is important to note that blasphemy is a very sensitive topic in this country, and anyone suspected of disparaging Islam or its prophet could face harsh penalties, including the death penalty.
Prayer leader survives knife attack in New Jersey in another anti-Muslim hate crime incident