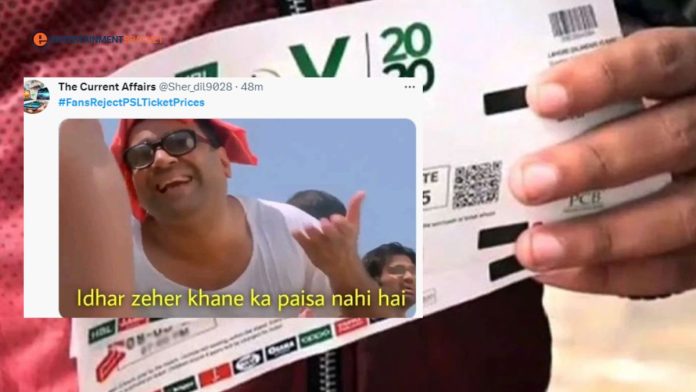 #FansRejectPSLTicketPrices Trend on Twitter: The Pakistan Cricket Board (PCB) has released information on ticket costs for the 14 Pakistan Super League 8 matches. That will take place in Multan and Karachi between February 13 and February 26.The cost of the remaining 20 Lahore and Rawalpindi leg matches. Which will take place from February 26 to March 19, will be disclose in due time.

On Saturday at 11 a.m., fans can purchase tickets for the Multan and Karachi legs of the tournament online at PCB. Book me. Pk. On Saturday at 11 a.m., physical tickets will also go on sale in parallel and can be buy at venues through box offices.
PSL Ticket Prices
Tickets for the tournament's opening game, which will take place on February 13 at the Multan Cricket Stadium. Between the reigning champions Lahore Qalandars and the Multan Sultans, will cost Rs6,000 for VIP enclosures. Rs3,000 for Premium, Rs2,000 for First Class, and Rs1,000 for General.
Multan Sultans vs. Quetta Gladiators game tickets are price at Rs 2,900 (VIP), Rs 1,900 (Premium), Rs 950 (First Class). And Rs 650 (General), while tickets for the other three home games are price at Rs 4,000 (VIP), Rs 2,00 (Premium), Rs 1,500 (First Class), and Rs 1,000. (General).
PSL 2022 Tickets: How to Buy PSL 7 Tickets Online?
The set rates for VIP, Premium, First Class, and General Enclosure tickets for non-Sunday games in Karachi are RS2,900, Rs1,900, Rs950, and Rs650, respectively.
cost of tickets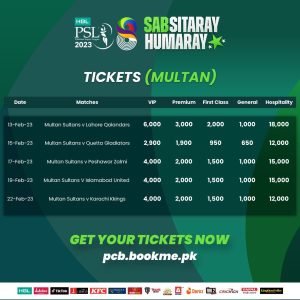 The cost of tickets for the tantalizing game between the Karachi Kings and the Lahore Qalandars on Sunday. February 19, has been set at Rs5,000 for VIP enclosures, Rs3,000 for Premium, Rs2,000 for First Class, and Rs1,000 for General. Prices for tickets to the final match in Karachi between the Multan Sultans and Karachi Kings on Sunday. February 26, have been set at Rs4,000 (VIP), Rs2,000 (Premium), Rs1,500, and Rs1,000 for First Class and General Enclosures, respectively.
For the first time, the PCB has introduced cheap season passes that include weekday games. This is done to entice families and cricket enthusiasts to buy less expensive tickets. So they may watch some of Pakistan's top short-format cricketers compete for the highest prize.
The season pass prices are Rs16,830 (VIP), Rs9,630 (Premium), Rs5,715 (First Class), and Rs3,555 (without the first Multan match) (General).
Similarly, the prices for the five matches in Karachi on February 16, 20, 21, 23, and 24 have been set at Rs13,050 (VIP). Rs8,550 (Premium), Rs4,275 (First Class), and Rs2,925 (for season passes) (General).
One ticket may be purchase using one CNIC, according to the PCB. Under-18s must fill out B-Form. For entry into the arena, fans must bring the ID used to purchase the tickets.
#FansRejectPSLTicketPrices Trend on Twitter
بجلی اور پٹرول بم کے بعد پیش خدمت ہے ٹکٹ بم!
جاہلو اس ملک میں عوام کے لیے اب کرکٹ بھی نہیں چھوڑا اتنے مہنگی ٹکٹیں ان چوروں کے بچے افورڈ کر سکتے ہیں پاکستان کے بچے نہیں،
💔😠
👎👎👎#FansRejectPSLTicketPrices pic.twitter.com/q1VOr3of3D

— 𝐀𝐡𝐦𝐚𝐝 𝐌𝐚𝐡𝐦𝐨𝐨𝐝 | ( فریدی ) (@ahmad_faredii) February 3, 2023
haan baei haan #FansRejectPSLTicketPrices ab kya gurda bech dyn match dekhny k liye😭 pic.twitter.com/ghYMMgCba1

— Dukhi~without any Dukh (@sully_0oy) February 4, 2023