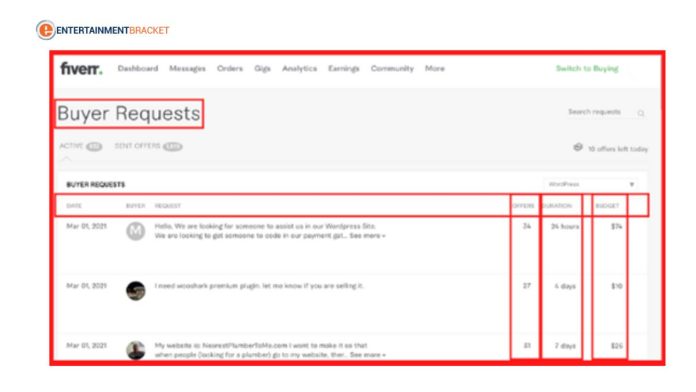 Have trouble answering Fiverr customers\' requests? Don\'t worry; I\'ll explain how to effectively respond to a Fiverr Buyer Request in this article so you can land projects.
What is Fiverr Buyer Request?
On Fiverr, there are two ways to receive orders. One method is for a buyer to contact you due to your gig ranking. Learn how to create a gig that stands out and can be displayed on Fiverr\'s front page. This will improve the buyer\'s likelihood of directly approaching you about a job.
Today, we\'ll talk about another method of applying to jobs placed by a Fiverr buyer. These tasks are known as buyer requests, and if you are a new seller on Fiverr, the majority of the time, this will be how you obtain the tasks.
The job postings on the Fiverr marketplace are known as Fiverr buyer requests. The sort of job, price range, and deadlines are all specified in this Fiverr buyer request. These requests are usually brief and to the point. However, purchasers occasionally include a lengthy note outlining all of their needs in the job posting.
Where the Fiverr Buyer Request Found?
The More part of your main menu is where you may find Fiverr buyer requests. A subset of buyer requests will appear when you click on more. Upon clicking it, buyer requests for those categories are displayed, regardless of your area of expertise.
How to Approach a Fiverr Buyer Request?
Comparable to placing your resume on a job posting is approaching a buyer request. There will be a lot of competition for you. When you get close to that request, hundreds of Fiverr merchants may have already applied.
While it is true that there is fierce competition, this is the only way to apply for jobs. To win the job, you can create a appealing, pertinent proposal and offers the client the highest value.
Step by Step Guide to Approach a Buyer's Request
After seeing the job posting and deciding if it\'s the right fit for you, writing your proposal to the buyer to secure that job is the following stage. You must be the best version of yourself since your competition is fierce. That request needs to be written flawlessly. I\'ll outline the method in detail and some crucial factors you should consider before approaching a buyer.
READ IT CAREFULLY
Most sellers only read the first one or two lines of the request, then write the buyer a request. You must carefully and attentively read it, taking note of every detail. Pay close attention to what he is requesting and what you can offer.
DON'T SEND READYMADE TEMPLATES
You can create a template for your use but never send it in response to a buyer\'s request. Make the necessary modifications before emailing it if you want to. You are aware that every customer has unique needs. Before beginning the job request, some people also advised drafting a few words. Therefore, remember that you must adhere to the customer\'s demands.
RESEARCH BEFORE SENDING THE REQUEST
Whatever the post is, it will help you if you perform some research before sending the request to the buyer. To attract a buyer, you must provide more than everybody else.
START WITH THE INTRODUCTION
Greet the customer first, then identify yourself by saying your name, who you are, and what you can provide. Include his area of interest in the job in your introduction, for instance, \"I am an experienced graphic designer and logo creating is my expertise. This is how I can help you,\" if you apply for a job designing logos.
DON'T TRY TO FILL ALL THE WORDS
Never believe that by reading anything Fiverr has to say, you will come across favorably to a customer. Large paragraphs won\'t hold your attention. Keep it brief and sweet instead. Try to speak less and stay attentive. The majority of buyers are active and are receiving several requests. The buyers lack time to look through them all.
You run the risk of having your consumers neglect you if you produce lengthy posts that are not necessary.
TELL BUYER WHY TO HIRE YOU
Only if you are someone a buyer is looking for will you be employed. Try to provide him with a brief explanation of how you can assist them so that he will think about hiring you.
PLACE QUESTIONS IN YOUR REQUEST
After drafting the necessary specifications, consider what you may provide him to improve his sales. Try to get some information about his position from him. You are free to ask any pertinent queries. By making the customer feel as though you are more interested in his project, your chances of being hired will increase.
LINK YOUR PREVIOUS WORK
Like before, it\'s similar to submitting a CV. Your experience will be the most crucial component of any job application. Connect at least one of your related works or projects to the buyer\'s request to provide consumers an indication of how you would approach their project.
QUICKER THE BETTER
If a client wants that the project is finished in two days. Try to offer him same-price delivery in a single day.
LESSER THE BETTER
You are aware that a post has had hundreds of applications, and the buyer may choose the candidate who can deliver excellent work quickly and at the lowest cost. As a result, strive to submit a modest offer to enhance your likelihood of getting hired.
PAY REGARDS IN THE END
Lastly, attempt to end by expressing interest in hearing from you. Additionally, always end your buyer request with your name and best wishes. It will demonstrate your professionalism.
SUBMIT AN OFFER
Once the request has been written, click on \"submit request,\" choose the specific gig the buyer is looking for that fits your skill set, and then click \"make an offer.\"
SOME OTHER TIPS FOR FIVERR SELLERS
If a job claims it pays $5, but you can complete the task for $10, don\'t apply. If you go below the price a buyer has previously indicated, your chances of being hired will be lower.
Avoid selling your gig for less because doing so will reduce your average selling price. Approach them with requests that are close to your gig costs.
You can submit a pre-made template but make all the adjustments required for the job posting.
Give your customer a name. To address them as sir and ma\'am will not appear or be regarded as professional.
Try to submit your application for a job no later than the top 20. Because there is a good likelihood, the buyer will choose someone in the top 20,
Ultimately, it doesn\'t matter if you have no skills or are selling skills that are always in demand. It will be fine to approach your buyer using the same strategy. Keep your cool, consider the request carefully, and react thoughtfully without rushing.
How To Verify Fiverr Account In 2022
Top Selling gigs on Fiverr 2022 – 15 Fiverr Skills in Demand Now