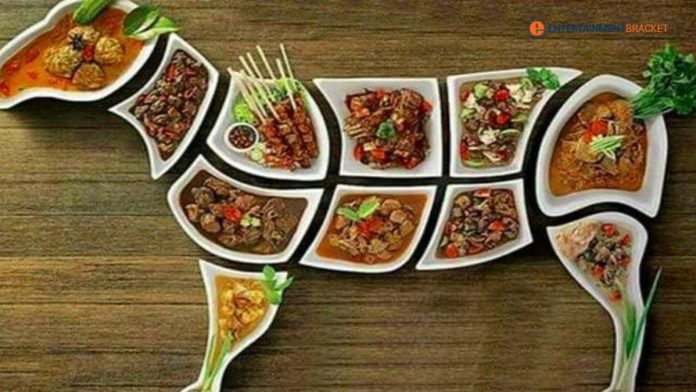 Eid-ul-Adha tends to fall by the wayside in terms of excitement and attention every year. But like Eid-ul-Fitr, this Eid needs planning and preparation as well to make it memorable and meaningful to all. Here are some best food ideas as well as tips and ideas on how to make Eid Ul Adha 2020 exciting, whether you\'re on your own, with your family, or want to get the community involved. Pakistani food is rich, full of spice, generous with ghee, and unbelievably tasty. Get ready for some serious Pakistani flavour specialties and Eid Ul Adha special dishes.
Biryani
The word \'biryani\' always waters the mouth. Biryani is an all-time best food favourite and the most famous, most eaten and sold dish in Pakistan. Biryani is a mixture of delicious yellow-white rice and either chicken or beef. The rice gets its colour from a combination of spices and herbs.
To top it off for more extra flavour, it contains perfectly cooked lemons, tomatoes, and potatoes. In 90% of wedding ceremonies, biryani is a must-be dish. In famous food restaurants,  biryani is a part of every restaurant as a main dish for customers. For desi cooking learners, biryani is one of the must cook recipes.
Kabuli Pulao
Pulao can be made with rice, which the chef always fries in oil while stirring in large amounts of dry spices. Usually, there will be a piece of mutton or beef meat, sometimes a whole leg, at the heart of each large dish. Saffron gives the rice colour, aroma and taste, but typically the spices are lighter than biryani. Whole cloves of cardamom and golden sultana raisins give off a beautifully sweet aroma. At larger restaurants, it may include peanuts and even pistachios and cashew nuts as a garnish.
Kabuli Pulao smells superb, looks beautiful, and of course, tastes incredible as well. A perfect dish for lunch special in Eid ul Adha 2020 launch.
Also Read: Eid ul Fitr Traditions Become \'Very Different\' For Muslims In The Age Of Coronavirus
Nalli Nihari
Nihari is a popular meat dish arising from Old Delhi. Nihari consists of slowly cooked meat such as beef shanks with bones, mutton, or chicken. The meat is cook together with stock and various spices such as cloves, cumin, garam masala, and cardamom in big vessels. It takes six to eight hours for nihari to appropriately cooked, and it traditionally consumed for breakfast,
 It is usually serve with tandoori rotis or khameeri rotis, and some like to garnish nihari with green chilis on top. Nihari\'s texture, spiciness, and tenderness of the meat make it a favourite among many dawat, specially in EID ul Adha 2020 dawat.
Mutton Karahi
Mutton Karahi is one of the best food that comes with Pakistan. It is made in a metal karahi and is traditionally from Peshawar, but you can find mouthwatering Karahis all over Pakistan. Karahi is the most cooked and eaten dish in Pakistan. Every household makes it 2 to 3 times a week. It is a mutton stew riddled with spices, garlic, ginger, and peppers. It is one of the best things you can have while in Karachi, Lahore, Peshawar, Hyderabad, or anywhere in Pakistan.
Also Read: 6 Ways to Celebrate Eid Ul Fitr In Pakistan At Home
Karahi is not limited to just mutton; it is made out of chicken, beef, and even shrimp. It is an iconic dish that almost every Pakistani knows how to make.  This is the best Eid ul Adha special dishes menu.
Paye
Paya is the best food dish of the Muslim and was introduced in the Indian subcontinent. It is mainly made with trotters of goat, sheep, or a cow along with different spices.  The soup of trotters is made with the amalgamation of onions, garlic, tomatoes, and coriander. However, It is served with a salad and a Nan. It takes around 12 hours to make a delicious Paya dish. On eid, everyone makes this dish on their house.  People service this with nan. Paye is Eid ul Adha special dishes.
Also Read: 14 Famous Lahori Food That Are Mouth -Watering
Kata Kat
Kata Kat is also called a masculine and organ dish of Pakistan. It is made up of various organs of a goat or a lamb. The main ingredients are the brain, testicles, heart, liver, kidney, and lungs, chopped on a frying pan with two sharp blades. After chopping, the organs are fried into a butter or oil and is served with a Nan. Kata-kata considers one of the best food for Eid, which people cook at home.
Seekh Kabab
Seekh kabab is a delicious Pakistani kebab made with a combination of meat, onions, garlic, ginger, coriander, lemon juice, yogurt, and garam masala. The meat mixture is put on skewers, and the kebabs are then grilled over hot coals, giving them a sweet smokey flavour in the process, although they can also be prepared in a tandoor oven. Seekh kabab is traditionally served piping hot with salads, onions, fries, mint chutney, or flatbreads on the side. Seekh Kabab is one of the best Eid menu.
Chapli Kebab
This dish everyone must try on Eid.  When you take minced buffalo meat, dried and fresh spices, you add them together and make patties. Afterward, you deep fry them in fat. By doing all this, you get the Chapli Kebab. Chapli Kebab is one of the best Eid ul Adha special dishes.
Namkeen Gosht
One of the most famous recipes, which is different and easy to cook, is Namkeen Gosht. This recipe is my mother's and makes people begging for more. All the mutton chops in one pot seasoned generously with salt with a touch of ginger and garlic. Fill the pot with water until it covers the meat. Boil it and let it cook slowly till water evaporates. With meat still inside the pot, introduce it to dash of oil and fry on high heat. This is one of the best Eid ul Adha special dishes.
Middle East
Mrouzia
Mrouzia is the best food for Eid Ul Azha. It is sweet and savory Moroccan dishes, consisting of the tagine with lamb, honey almonds, raisins, and ras el hanout spices. The dish is traditionally reserved for festivities, celebrations, holidays, and similar large gatherings. This is a famous dish of the middle east.
Maqluba
Maqluba (or Maqlooba) is a Middle Eastern dish common in Palestine, Jordan, Turkey, and Lebanon.  A Palestinian tradition, maqluba, means \"upside-down\" in Arabic. It is a pot of stewed meat, rice, and fried vegetables, cooked and turned into a serving dish to form an impressive tower.
Comprised of rice, vegetables, and meat, it is layered and cooked in a single pot and then flipped over for serving. The name translates to upside down. This is one of the best Eid ul Adha 2020 menus.
4 Magical Tricks for cooking
On Eid follow these magical cooking tips that help you.
1 – For Marination Don't Use Black Pepper
Eid ul Adha 2020, everyone makes BarBQ. Before you marinate meat, anything doesn\'t use black paper. For anything you marinate, there is always basic marination. Mustard, lemon juice, ginger and garlic paste, salt, and white pepper. Black pepper is never used. That\'s your basic marination for beef, lamb, fish, prawns, mutton, veal.
2 – Don't Fry The Meat
Eid ul Adha special dishes start with meat but don\'t fry the meat. Always sear the meat. Apply your marination, put the meat on an extremely hot, lightly greased pan or a hot platter. The purpose of searing is to lock all the flavors. It will give a nice color to the meat, and then when you slow cook it, you don\'t end up losing all the flavor.
3 – Garlic Cloves Have The Magic
Eid ul Adha special dishes incomplete without garlic. Insert garlic cloves inside the meat that needs longer cooking hours. For lamb shank, the longer you cook it, the better. The meat should be falling off the bone.
4 – Meat Needs Rest
The most important tip is always to give the meat resting time. Resting time is necessary because the flavors and cooking process settles down and can easily be carved. Eid-ul- Azha special dishes need 1 to 2 hours rest before start cooking.
Tips For Healthy Eid Ul Azha
1 -Walk After Eating
Walk after eating meat or any food. It helps in the digestion of food and decreases the chance of feeling restless at night. According to research, those who do not walk after every meal they wakeup in the morning feeling either nauseous or feeling as if the food is sitting right at their throat. That the reason walk after eat special on Eid ul Adha 2020. Meat is unhealthy to consume meat during night time.
2 – Don\'t Eat Fried Meat
Don\'t eat fried meat; It\'s unhealthy for your health. Meat soaked the oil, and it affects our heart. Try to grill on charcoals rather than cooking it on oil. These Eid-ul-Azha special dishes health tips would be nothing if they didn\'t include the harmful consequences of oily meat. 
3 – Avoid Cold Drinks
Cold drink is not good for health. This Eid ul Adha special dishes menu avoid to serve cold drink. Serve juice or lime water. If you eat sweet dishes and then cold drink it effects on your stomach and a sore throat. Moreover, the perfect thing to do for your health is to avoid cold drinks altogether. They don't provide any necessary nutrition and cause extra health issues.
4 -Pair Vegetables With The Meat
Eid ul Adha special dishes start with meat but don\'t make only meat dishes. Vegetable with meat making combination. Like bottle gourd mix with meat. Bottle gourd Hazrat Muhammad ﷺ favourite food. A vegetable is good for health, It also reduces the dangerous effects of consuming meat for longer hours. Moreover, the eating plan gets disrupte as well because every day you have meat served on your plate. It is necessary to understand that you should eat a healthy breakfast first.
5 – Try Not To Eat Meat Continuously
It is an obvious step, but there are moments when one forgets the concept of time and eats as much as possible.  As mention early, don\'t eat only meat. Give 4 hours gaps before you go o towards your next meal. If you eat continually eat meat, it effect digestive system.