The federal government made the list of Toshakhana presents given since 2002 public on Sunday for the first time in Pakistan's history. Govt Makes Record of Toshakhana Gifts Public A few days prior, Defence Minister Khawaja Asif said that the federal government had agreed not to declassify the information from the state repository that holds presents that public officials had received from other nations and international personalities.
The document's 446 pages contain records for the years 2002 through 2023. The list of presents that presidents, prime ministers, and federal ministers have received is made public. The current coalition government got 59 presents from various nations in 2023.
Government records show 224 gifts were received in 2022, 116 in 2021, 175 in 2018, 91 in 2014, and 177 in 2015. In 2015, however, 177 presents were received by government employees.
ECP reserves verdict in Toshakhana case against Imran Khan
Govt Makes Record of Toshakhana Gifts Public
The document contains records of presents kept by past prime ministers Shaukat Aziz, Yusuf Raza Gilani, Raja Parvez Ashraf, Nawaz Sharif, and Imran Khan, as well as later-former president Gen. (ret.) Parvez Musharraf.
According to the records, Imran Khan spent Rs85 million on a diamond and gold watch, Rs5.67 million on a pair of cufflinks, Rs1.5 million on a pen, and Rs8.7 million on a ring. The former premier paid almost Rs. 20 million to keep all the presents.
In addition, the PTI leader paid Rs. 754,000 to keep a watch worth Rs. 3.88 million.
All public officeholders, including lawmakers and bureaucrats, must deposit presents in the Toshakhana department, formed in 1978. When the Election Commission of Pakistan began proceedings against the former prime minister Imran Khan for exposing the specifics of Toshakhana gifts he preserved in the declaration, the department came under the limelight.
In the Toshakhana case last year, the ECP also removed the PTI leader's eligibility to serve in the National Assembly due to his failure to disclose the gifts. A criminal case submitted by the electoral authority is also being heard at the federal capital's Districts and Sessions Court.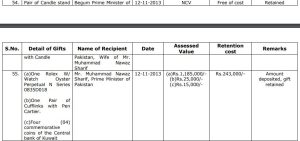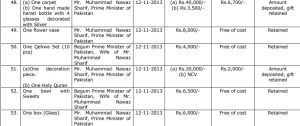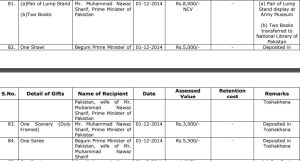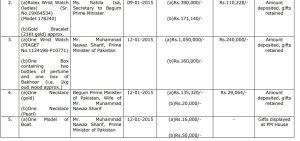 #مریم_چورنی_پاگل_ہوگئی
یہ ڈڈو چارجر ٹی وی پر بیٹھ کر بہت بےشرمی۔سے بکواس کرتی ہے گھڑی گھڑی یہ دیکھو اس کے۔کام#مریم_چورنی_پاگل_ہوگئی #مریم_گھڑی_چور_نکلی#مریم_گھڑی_چور pic.twitter.com/gE1TQAyfch

— Rai Saim (@RaiSaim17) March 12, 2023
Since everyone on Twitter is talking about Pineapple, so I had to come up with something to visually interpret the messages 🤫#مریم_چورنی_پاگل_ہوگئی pic.twitter.com/y8h6qxGQTn

— Ciphered Words (@CipheredWords) March 12, 2023
Among the pineapples, watches, necklaces, cars and many imported items, PMLN's Maryam Nawaz also took imported carpet from Tosha Khana in just Rs 50, according to the data revealed by the Cabinet Division#توشہ_خانہ #مریم_چورنی_پاگل_ہوگئی #عمران_خان_ہماری_ریڈ_لائن #Facist_PDM pic.twitter.com/aLDf06sPXU

— Waqar Afzal (@WaqarAfzal2234) March 12, 2023