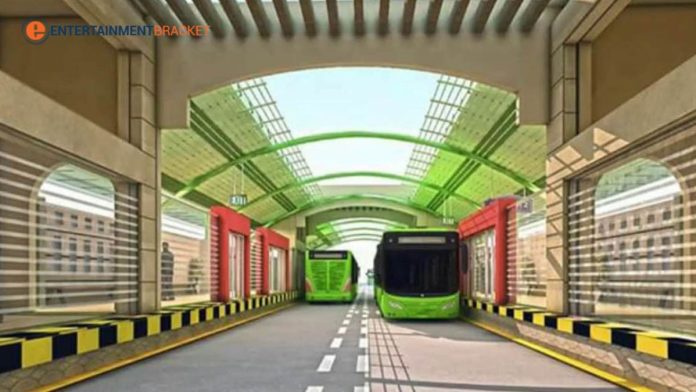 Green Line Buses in Karachi & Islamabad: To provide the people of Islamabad and Karachi with convenient, inexpensive, and safe transportation, the Green Line Buses were introduced last year.
Modern technology allows for smooth transit from various locations inside the cities thanks to the buses.
Orange Train Lahore- Routes, Stations, Tickets & Schedule
The Green Line Bus route stops and timing information for Karachi and Islamabad are listed here.
Green Line Buses Islamabad – Bus Stops 
The information about the Green Line Buses in Islamabad is as follows:
| | |
| --- | --- |
| Route Name: | Bara Kohu to PIMS |
| Distance | 15.5 Kilometers |
| No. of Bus Stops: | 7 |
| Timings:  | 6 to 10 pm (Bus arrives every 15 mins) |
| Ticket Price  | PKR 50-100 |
Green Line Buses Islamabad – Bus Stops
The seven bus stops included in Islamabad's Green Line Bus project are listed below. Every 15 minutes, buses arrive at each station. At each stop, there is a seating area where people can unwind while waiting for the bus.
Green Line Islamabad Bus Stops 
Gulberg
Koral Chowk
Gangal Stop
Khanna Pul
Krui Road
Suhan
PIMS
Green Line Bus Karachi
The Green Line Buses in Karachi are described in detail below:
| | |
| --- | --- |
| Distance  | 22 Km |
| Stops  | 25 |
| Buses  | 80 |
| Timings  | 7 to 10 pm |
| Ticket Price  | PKR 15-55 |
Green Line Bus Stops in Karachi
The 22 bus stops along the Karachi Green Line are listed below.
Green Line Karachi Bus Stops
Chowrangi Bus stations
Numaish Chowrangi
Patel Para (Guru Mandir) Station
Lasbela Chowk Station
Sanitary Market (Gulbahar) Station
Nazimabad No.1 Station
Enquiry Office Station
Annu Bhai Park Station
Board Office Station (to Orange Line)
Hyderi Station
Five Star Chowrangi Station
Jummah Bazaar (Bayani Center) Station
Erum Shopping Mall (Shadman No.2) Station
Nagan Chowrangi Station
U.P. More Station
Road 4200 (Saleem Center) Station
Power House Chowrangi Station
Road 2400 (Aisha Complex) Station
2 Minute Chowrangi Station
Surjani Chowrangi (4K) Station
Karimi Chowrangi Station
KDA Flats Station
Abdullah Chowk Station
Green Line Bus Services
The Green line buses in Islamabad and Karachi offer convenient travel to citizens with the following services: 
QR code ticket scanning

Multimedia installed on buses

Clean and neat interior

Surveillance cameras 

Charging ports for travelers

Separate compartments for men and women
Have a Safe Travel! 
We sincerely hope this article has improved your comprehension of Islamabad's and Karachi's Green Line Buses.