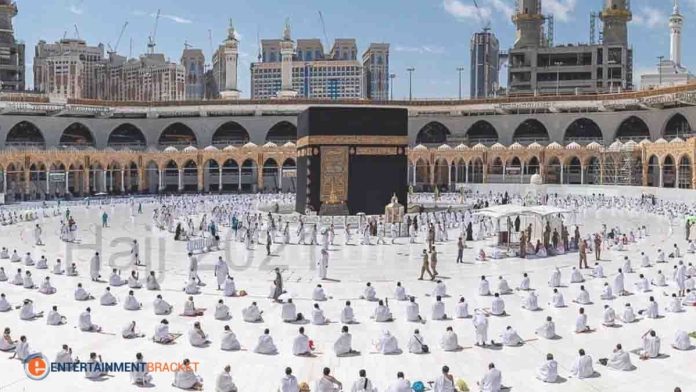 Federal Minister for Religious Affairs Noorul Haq Qadri said they were in consultation with Hajj policy 2021. According to local News, this year\'s most expensive one for Pakistanis. This year\'s cost may exceed RS 700,000. Moreover, a couple of days ago, Saudi Arabia issued (SOPs) for the pilgrims coming to the kingdom for Hajj 2021. Additionally, the authorities in the kingdom had made it compulsory for the pilgrims to get vaccinated to perform Hajj 2021
"The pilgrims will be bound to get vaccination ahead of the month of Zilhaj — most precisely two weeks ahead of visiting the kingdom — and have to provide concrete evidence of getting a jab from WHO-certified vaccines," it explained.
"The ministry has also issued guidelines about the PCR test for pilgrims and stated that "Those arriving in the kingdom during the Hajj season will have to undergo a PCR test 72 hours before their arrival".
How Pandemic Effects On Saudi Economy 
Saudi Economy is in a slowdown. Due to a decrease in oil demand globally, oil prices have significantly decreased. But limiting the number of participants to exercise social distancing will also affect the Saudi Economy because those 2.5 million Hajj and Umrah performers brought $12 billion annually to the Economy.
Also Read: Saudi Arabia Announces Hajj Health Measures 
Hajj to Cost this Year Around Rs.7 Lack to Rs. 1 Million
Safety Measures For Hajj In 2021
The Hajj participants were quarantin upon arrival in Makkah. Authorities checked their temperatures, and the workers also sanitized their luggage. The authorities also gave them electronic wristbands to monitor their locations all the time. Moreover, the entire Grand Mosque was disinfect to make it as secure as possible for the participants to begin the Hajj process from 28th July 2020.
The authorities gave the Hajj participants an amenity kit. These kits include prayer rugs, sterilized pebbles they will need for the stoning ritual, and ihrams, the garment worn during Hajj. Health facilities, mobile clinics, and ambulances will set up to accommodate the Hajj performers in case of medical emergencies.
Performing Hajj And Social Distancing
To ensure social distance, the Kaaba is surround by a Kaaba, which shows how much distance needs to be observed between the participants. Authorities have also cordoned off the Kaaba. That way, participants would not touch the building and spread the virus. This will include not being able to kiss the black stone, the black stone. Usually, actors have to kiss the rock, but they will not qualify for obvious reasons.
Who Can Attend?
Only the people of Saudi Arabia people can take part in Hajj. Foreign nationals from 160 countries participated in the online selection process. This year Hajji Participants from 2.5 million to 10,000 hajj in 2021. Of these 10,000, 70% are foreigners residing in Saudi Arabia. The rest of the 30% are Saudi citizens.