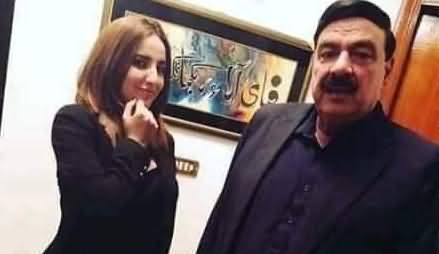 TBH by Tabish Hashmi began with a blockbuster episode with Ayesha Omar as its first guest and quickly became a sensation thanks to the host\'s remarkable talent. The show had a second season and then the third season, with countless other guests appearing one after the other. The show also manages to cause controversy from time to time; Feroze Khan and Mathira\'s episodes are ideal examples to use. Harem Shah and Sheikh Rasheed are at the centre of the show\'s most recent scandal.
Also Read: Doctor Arrested In Lahore For Making Obscene Videos Of Colleagues 
TBH 3.0 Guest Hareem Shah
Hareem Shah has been invited to TBH 3.0 as a guest. The whole episode is expected to be released on November 24th, but the teaser is attracting interest. The channel released a brief clip from the show. Tabish requested Hareem Shah to phone Sheikh Rasheed since he was obsessed with him.
Hareem quickly began seeking for her phone, which was handed to her by a girl. She dialled the phone number and held it up to the camera. She appears to have saved the Interior Minister\'s phone number as \'Sheikhu.\' It just shows how close they are to save the number with a term of endearment.
Sheikh Rasheed To Hareem Shah
Tabish was shocked when the call connected and his voice was heard (either he is a great actor or unscripted). Sheikh Rasheed\'s first sentence was that Hareem should call him later because he couldn\'t chat right now. Sheikh Rasheed replied, \'bakwas band karen,\' when Hareem insisted.
The way Hareem laughed at the remark, though, indicates that Sheikh Rasheed\'s shut up call was all in good fun. They\'re friends, and they\'re close enough to be so casual with each other.
Also Read: American Blogger Hires Woman To Slap Him Everytime He Uses Facebook
Of course, we\'ll simply have to mark the calendar now to find out how the rest of the call went, won\'t we?