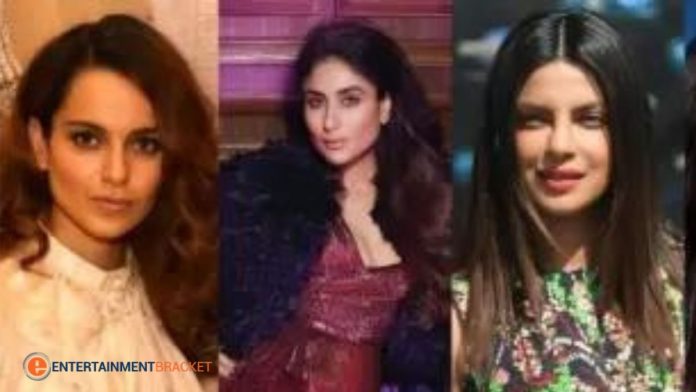 Bollywood is a huge industry, and the disparity in earnings between men and women is not unique to the film industry. It\'s all around us. The income disparity is narrowing with each passing year, thanks to changing trends in modern Hindi cinema, where Bollywood women-centric films are performing and male-centric films. Let\'s take a look at who the highest paid Bollywood actresses are.
Top 10 Richest Pakistani Celebrities 
The Best Male Models of Pakistan All Time – Pakistan Fashion Industry
Top highest paid Bollywood actresses
10 – Sonakshi Sinha (5 crores)
While Sonakshi Sinha has demonstrated her acting abilities in films such as Lootera. She does not have many hits on her resume to demand a large sum of money.
Sonakshi is playing it safe for the time being, with recent flops like Welcome to New York, Ittefaq, Akira, and Action Jackson. Her upcoming projects, which appear to be quite interesting. May drastically change the game for her, but for the time being, she charges around 5 crores per film. She is  one the highest paid Bollywood actresses.
9 – Shraddha Kapoor (6 crores)
Shraddha Kapoor may not be considered a top-tier Bollywood actress. But there\'s no denying that she\'s had a few box office hits, including Ashiqui and ABCD 2. She has recently received critical acclaim for her roles in Stree and Rock On 2, but her pay grade remains below ten. She earns 6 crores per film and will need a few more hits in the coming years to crack the top of the highest paid Bollywood actresses list.
8 – Vidya Balan  (7 crores)
Once upon a time, Bollywood was singing to the tunes of a hot lady named Vidya Balan, who had back-to-back hits with songs like \"Kahaani\" and \"The Dirty Picture.\" But times have changed for her, and a few box office and critical flops have taken a toll on her once-promising career. We can\'t deny that her marriage to a film producer has put her in a secure position, but that doesn\'t mean other producers will pay her as she desires. She is currently paid around 7 crores per film.
7 – Sonam Kapoor  (8 crores)
Sonam is the undeniable style diva of our industry, despite receiving frequent criticism for her \"motor-mouth\" and acting abilities.
However, that does not imply that she will be compensated more than other actresses in her category. However, recent commercial and critical successes, such as Neerja, have improved her fortunes and allowed her to charge around 8 crores per film. Her next few projects, such as \'Ek Ladki ko Dekha to Aisa Laga,\' could do wonders for her, but she must maintain a track record of box office and critical acclaim.
6 – Alia Bhatt (9-10 crore)
Alia Bhatt is one of the few star kids in the industry who has repeatedly demonstrated that. She is the most talented of all the other star-kid girls. After a shaky start with a film like \'Student of the Year,\' She transformed and reappeared in a series of back-to-back hits. Not only were they box office successes, but they also earned her praise for her performances. Alia charges around 9-10 crore per film, riding high on the recent success of Raazi, a Bollywood spy thriller film. She is one of the highest paid Bollywood actresses.
5 – Anushka Sharma  (10 crore)
Anushka Sharma is one of the most intelligent women in the industry, striking the ideal balance of class and mass appeal. With commercially successful films like Sultan, PK, and Rab ne Bana Di Jodi, as well as artistic films like Pari, She has proven herself to be a highly versatile actress in films such as NH 10 and Phillauri. She could easily rise to the top of the list with a slew of new and exciting projects on the horizon. But, for the time being, she is ranked fifth on our list, with a fee of ten crores per film.
4 – Katrina Kaif (11 crore)
Katrina Kaif may not be considered the best actress in the industry, but that hasn\'t stopped her from success.
She continues to choose the right scripts, even if her role does not require her to do much with them. And she benefits when the film is a success. This is a very sly, intelligent, and classy way to approach a career in. Such a competitive market as the Hindi film industry. Her fee for each film is Rs. 11 crore.
3 – Kangana Ranaut (13 Crore)
The indisputable Queen of Bollywood, Kangana Ranaut has been making a name for herself with each film. After a slow start with films like \'Life in a Metro\' and \'Gangster. She has emerged as one of the best actresses working today.  Kangana is one of the highest paid Bollywood actresses. All of this began with Queen, and since then, she has carved out a niche for herself in the industry through a series of films. She is well-deserving of the 13 crores she receives for each film.
2 – Priyanka Chopra  (14 crore)
She was our very own Desi Girl until a few years ago. But now she\'s a Hollywood star, starring in films like Baywatch and TV shows like \'Quantico.\'
While her appearances in Indian cinema have decreased in recent years. She continues to do high-quality work abroad, allowing her fee to rise. She is currently paid 14 crore per film in Hollywood and India. Placing her second on our list of highest paid Bollywood actresses.
1 – Deepika Padukone (15 crore)
Deepika Padukone takes the top spot on our list without a doubt As she has proven in recent years that. She is unrivaled in terms of beauty, talent, hard work, and script sense. She has become one of the most in-demand actresses from the current crop, thanks to the recent hit Padmaavat, which she carried on her shoulder herself. Deepika currently charges INR 15 crore per film, and with a few more successful films, which we desperately want to happen, the rate must skyrocket. She is one the highest paid Bollywood actresses