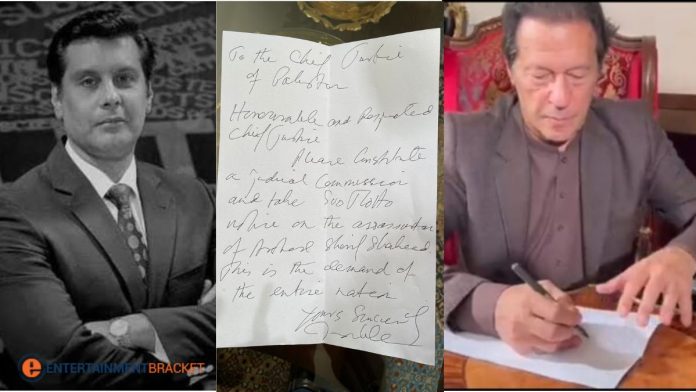 Imran Khan pens letter: Imran Khan, a former prime minister and the leader of the Pakistan Tehreek-e-Insaf (PTI), has sent a letter to Chief Justice of Pakistan (CJP) Umar Ata Bandial asking for a judicial investigation into the murder of journalist Arshad Sharif.
The prominent journalist, who was exiled, was assassinated on October 23 in Nairobi, the capital of Kenya.
After Arshad Sharif's post-mortem and return to his home country, Kenyan police initially claimed that the veteran journalist was killed in a "mistaken identity" incident. However, several Kenyan news outlets have since questioned both the police's actions and the circumstances surrounding Sharif's death.
The former prime minister pleaded with the top justice in the letter to appoint a "free" judicial committee to investigate a senior journalist's killing.
It's important to note that hundreds of Pakistanis have written petitions to the Chief Justice of Pakistan pleading for the journalist to receive justice.
The daughter of Arshad Sharif, Alizah Arshad, requested that a judicial committee be set up to investigate her father's assassination in a letter to the Supreme Court (SC) judges in December.
She pleaded with the honorable judges in charge to deliver justice to the victims. She suggested creating a judicial panel and holding the hearings in open session.
According to Alizah, due to their savagery, her father's assassins must face severe punishment. She concluded that justice is always delayed.