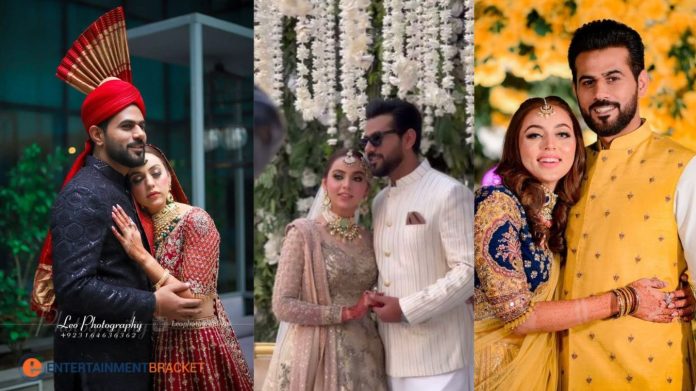 The spectacular wedding celebrations of Maryam Noor have drawn a lot of attention, and tales of her alluring beauty and lavish wedding events are widely circulated. Maryam Noor Sheikh wedding pictures festivities began with a musical night party and continued with mayun celebrations and other significant occasions.
The public cannot help but adore this couple for their striking and majestic features as Maryam keeps posting praising pictures on her Instagram account. The most exclusive photos of Maryam Noor during her mehndi and Barat ceremony are presented here. Thus, the location of the couple's photo session.
Madhuri Dixit Also Joined Viral Mera Dil Ye Pukarey Aja' Trend
Maryam Noor Sheikh wedding pictures
Maryam looks gorgeous in her mehndi attire. Her amazing makeover is breathtaking, and her yellow and blue lehenga is decorated with intricate embroidery. We are now getting closer to her special day. Therefore, this fashion icon chose to wear a traditional lehenga in bright red and paired it with green pearl jewellery. The dupatta in this lovely ensemble is heavily beaded, and the charming groom is searching for a carefree while wearing a black sherwani and a red Gullah. These sparkling pictures have us completely smitten.
The internet has been completely taken over by Maryam Noor's wedding season, and now everyone is impatiently awaiting the walima/reception look. This beauty is undoubtedly prepared to enchant us with her next appearance.
Actor Babrik Shah three-year-old Son Dies After Accidentally Falling into a water tank