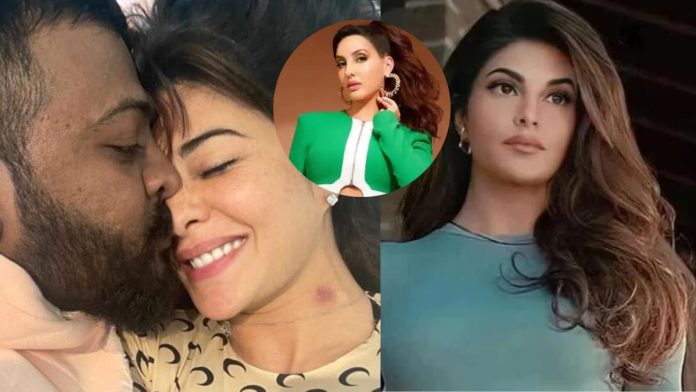 Bollywood actresses Nora Fatehi and Jacqueline Fernandez have provided new testimony. To the Patiala House Court in Delhi on their alleged participation in the INR 200 crore. Inducement case brought by conman Sukesh Chandrashekhar. jacqueline Fernandez slams criminal ex-boyfriend
The actresses have levelled some surprising accusations against the con artist and disclosed how he introduced himself and all of the promises he allegedly made to them.
The conman's case involving money laundering has been in the news for a while. Recently, the identities of numerous additional celebrities, including Chahatt Khanna, Nikki Tamboli, and others, began to surface.
jacqueline Fernandez slams criminal ex-boyfriend
According to a recent development, Nora Fatehi and Jacqueline Fernandez recently accused con artist Sukesh Chandrashekhar of lying to them. India Today has access to the actresses' extortion court testimony.
In a statement, Nora Fatehi say, "Many actresses are longing to be take care of by Sukesh," as quoted by the portal. I had no idea who Sukesh was at first. Later, I believed he had previously worked for LS Corporation. I never spoke to him directly or even exchanged any personal information. I had never met him. Thus I had yet to learn about this. He was the only one I saw until he accosted me at the ED's office.
Sukesh Chandrashekhar, according to Jacqueline Fernandez, "played with my emotions and made my life horrible," she said. "Sukesh misled me, and he destroyed my job and livelihood," she claimed. My makeup artist, Shaan Muthathil, was persuade by Pinky Irani, who introduced the con artist to the actor, that Chandrashekhar was a high-ranking member of the Home Ministry.
Jacqueline Fernandez Looks Ravishing in Pakistani Bridal Couture
Jacqueline continued, "He claimed J Jayalalitha was his aunt and presented himself as the owner of Sun TV. As the owner of Sun TV, Chandrashekhar claimed to be a big admirer and suggested that I make films in South India. They already have a lot of projects planned, he added. We ought to try to collaborate on south Indian films. He did not mention that he was calling from a prison phone. He used to ring out behind a curtain and a couch in one corner.
"After August 8, 2021, he stopped communicating with me, and I later learned that he had been jailed for impersonating high-ranking Home Ministry and Law Ministry members. Pinky Irani always intended to defraud me. Shekhar tricked me (the name used by the conman to interact with the actor). When I learned about Shekhar's criminal history, I also learned his real name is Sukesh. Pinky was familiar with Shekhar's activities and history. But she never told me about this.
Chandrashekar offered Fernandez gifts worth more than INR 5 crore from the money he defrauded, according to the first chargesheet filed by the ED last year. The actor has been list as a defendant, and it is allege that she knew the gifts were purchase with criminal earnings.
Sukesh Chandrasekhar gave Jacqueline Fernandez several presents totalling INR 5.71 crore from the crime profits, including extortion.
Pinky Irani, a longtime friend and co-accuse in this case, was assigne by Chandrasekhar to give the gifts to the woman. According to a statement made at the time by the ED.
Jacqueline publishe a lengthy letter on her Instagram account and ask her fans and the media to stop sharing. Her private photos with Sukesh while her photos of the conman were being circulated.
She wrote, "This country and its people have always given me tremendous love and respect. This includes my friends from the media, from whom I have learned a lot. I am currently going through a rough patch but I am sure that my friends and fans will see me through it. It is with this trust that I would request my media friends to not circulate images of a nature that intrude my privacy and personal space. You would not do this to your own loved ones, am sure you would not do this to me either. Hoping that justice and good sense prevails. Thank you."
Chandrashekhar stated that he was dating the actress in his claims. Sukesh, a resident of Bengaluru, is currently the target of 15 FIRs. Before, he was charge with scamming citizens of Bengaluru and Chennai out of many crores. He is now being held in Delhi's Tihar Jail.