Khawar Maneka accuses Imran Khan: During an appearance on Monday's Aaj Shahzeb Khanzada Kay Sath show on Geo News, Khawar Maneka accused Imran Khan of ruining his marriage.
Speaking candidly about his marriage, Khawar Maneka claimed that Farah Gogi called him to request a divorce from Bushra while his ex-wife was residing at her parents' home.
According to Khawar Maneka, he and his ex-wife got divorced on November 14, 2017.
Prior to Imran Khan's meeting with his ex-wife in Lahore, the ex-husband of Bushra Bibi Khawar Maneka claimed to be leading a happy married life while wearing the garb of "peeri mureedi" (spiritual guidance).
"Under the guise of Peeri Mureedi, Imran Khan destroyed our happy married life," Khawar Maneka stated.
Khawar Maneka stated in his video link interview that he wed Bushra in 1989 and that because his wife was a faith healer, people used to show examples of their home.
He referred to his ex-wife Bushra Bibi as "pinky" during the interview.
Khawar revealed that during the 2014 PTI-organized sit-in in Islamabad for spiritual guidance, Bushra's sister Maryam Wattoo, who resides in the United Arab Emirates, introduced Imran Khan to her.
He disclosed that things worsened and that his marriage was "destroyed" as a result of their frequent meetings between 2015 and 2016.
Khawar claimed, "My mother used to say that not allow him [Imran Khan] to visit home as he is not a good man. His frequent visits to our house had made us depressed."
Has COAS Met With Religious Leaders Behind the Bulletproof Glass?
He continued by saying that although his mother's counsel had touched him, he had previously resisted it.
According to Khawar, when Bushra was in the federal capital, she used to meet Khan in Islamabad.
"TV channels informed us about their marriage. We were ignorant of this," he remarked.
Khawar claims that the family had a difficult time because after the news spread, people in Lahore came to his house and began yelling. He questioned why the public was against them and disparaging them.
He said that the lengthy phone talks between the two were the reason the family was against Imran Khan and Bushra meetings because they were a "peer and murshid" relationship. Khawar said he was troubled to see Bushra and Khan talking on the phone for hours at a time during the night.
At the time, he had suggested to his ex-wife that they have a talk like this. However, nothing changed because, according to Khawar, Bushra received a phone and additional SIM cards from Farah Gogi, a friend of his ex-wife, at the PTI chief's request.
"They began exchanging discreet words. I used to protest that she didn't answer the phone when I called. I was assigne to Pakpattan Sharif after being post to Karachi. In order to make sure the phone was not being answer, I used to send servants inside. He continue, "I was informe later that Khan was seat there, and I'm not happy about that."
Regarding the incident, he continued, using his servant to eject the PTI chief from his home.
Khawar Maneka clarified that their Bani Gala farmhouse was not rent, even though he acknowledge that his wife had spent some time there.
Social media users are voicing support for former first lady Bushra Bibi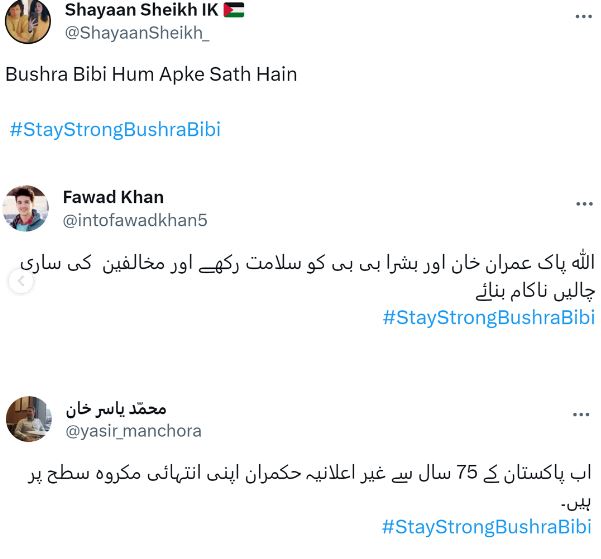 Social media users are voicing support for former first lady Bushra Bibi after her ex-husband Khawar Maneka made startling revelations on a TV show.
Maneka alleged that Imran Khan ruined his married life under guise of peer-muridi.
Maneka claimed Bushra Bibi married Imran Khan after one and a half month of divorce.
Stay Strong BushraBibi Trending On X