Malik Riaz family 2023 Range Rover trend online: Despite the nation's faltering economy, Pakistan continues to import luxury cars, which worries the nation's people. The legal treatment of the wealthy and the poor in Pakistan is commonly considere to be in sharp contrast, influencing educated Pakistanis to desire to leave the nation.
People Criticize Gold Coins Being Thrown At A Wedding
According to a recent claim, a video of the brand-new 2023 Range Rover at the dock has been quickly making its way across social media. According to reports, the ultra-luxurious SUV was importe by the wealthy Pakistani businessman Malik Riaz's grandsons.
Malik Riaz family 2023 Range Rover trend online
The owner of Bahria Town Housing Societies, Malik Riaz, is well know for his impressive collection of cars, and it appears that his grandchildren apparently share his taste in high-end vehicles. They allegedly brought the first new Range Rover to Pakistan. Furthermore, Riaz is say to be Asif Zardari's closest confidant.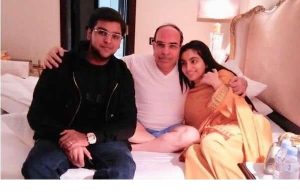 Although the popular video doesn't name the specific model of the SUV, it does indicate that the sumptuous Range Rover competes with other high-end luxury SUVs like the Mercedes GLS, BMW X7, and Cadillac Escalade. Exclusive of import duties, the base price for this opulent Range Rover is Rs. 32 million.
When Pakistan has 1.9 billion dollars of forex reserves, #MalikRiaz's grandkids are being allowed to import the first 2023 Range Rover to Pakistan. #alhamdullilah #governmentpriorities #IMF #default @abbasnasir59 @geonews_english @tribuneblogs pic.twitter.com/3bZBQOD4Km

— Aaminah Qadir (@AaminahQ) February 13, 2023
As images of Malik Riaz's family's 2023 Range Rover circulate online, they make headlines.
Disadvantaged people expressed concern about the goals of the Pakistani government after these images went viral since it appears that the wealthier citizens of the nation are immune from import restrictions. Meanwhile, a video recently circulated showing Usman Mirza lavishing cash on his pregnant wife, Uzma Malik, during a Qawwali event. Unknown to the public, this family may consider themselves Pakistan's equivalent of the wealthy Mukesh Ambani family.