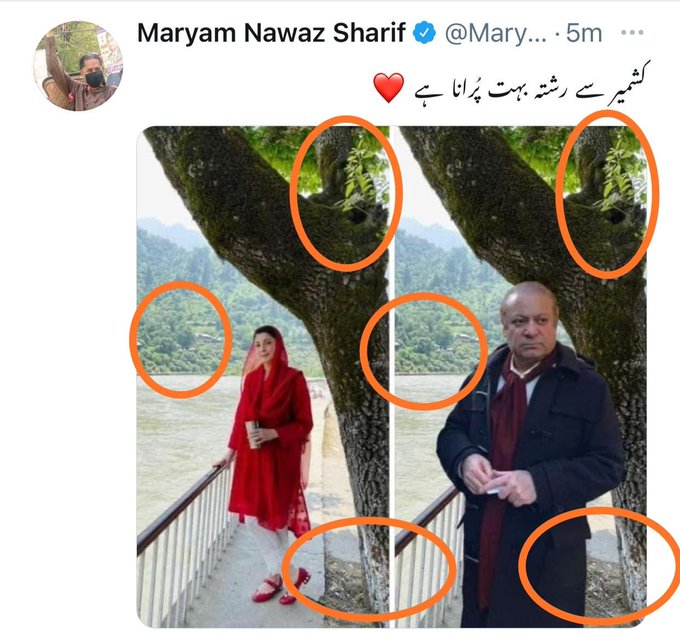 Pakistan Muslim League-Nawaz (PMLMaryam ) is supposed to have tweeted her father Nawaz\'s photoshopped picture in Kashmir. And now Twitter has a meme game.
Maryam\'s timeline has no such image, but Dr. Shahbaz Gill, Special Assistant to the PM, has an alleged screen shoot. He shared a screenshot of Maryam\'s seemingly tweet. It\'s her and Nawaz\'s combo photograph.
In Azad Kashmir, Maryam leads the party\'s election campaign. In the picture, she is standing at a scenic spot in Keran, Neelam Valley. The picture to the right shows her father, Nawaz, at the same place. He has been in the United Kingdom since November 2019. The tweet reads: \"These are very old ties to Kashmir.\"
Dr. Firdous Ashiq Awan, Punjab Special Assistant Chief Minister, also sprang into the Twitter conversation, calling Maryam a \"fake princess.\"
Photoshopped' Picture In Kashmir
On Monday morning, Maryam\'s Twitter profile had tweeted with her photos.
فوٹوشاپوالالیڈر# Trend On Twitter
Stay tuned for more from Entertainment Bracket!