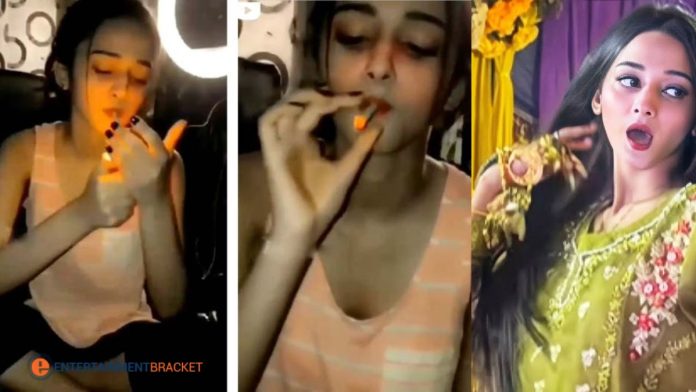 Internet users accuse the viral girl "Mera Dil Yeh Pukare Aaja" of "corrupting culture" after a video of her smoking cigarettes goes viral.
Ayesha aka Mano, was see dancing to the Indian tune Mera Dil Yeh Pukare Aaja in a video that recently went viral on social media. Little did the girl know that after dancing to this song at her friend's wedding, she would instantly become a household name to people worldwide, including in Pakistan. Ayesha has become a social media star in Pakistan due to this video and has consented to collaborate with numerous brands. Mera Dil Yeh Pukare Aaja' Smoking Cigarette goes Viral
First Teaser Trailer of the Barbie Movie is Finally Released — Video
Corrupting culture
After the viral video, Ayesha first appeared as a guest on the morning program Good Morning Pakistan on ARY Digital. In response to the program's host's query, how did you become popular online? Ayesha retorted that she had no idea she would become so well-known. She claimed that her pal advised her to dance to this music (Mera Dil Yeh Pukare Aaja). And let me just say that it was a milestone for me. Although dancing is undoubtedly not a crime, her dance moves at the time entertained viewers worldwide.
Ayesha rose to fame on social media after a video she posted went viral, and now she frequently appears in Pakistani bridal picture shoots with well-known companies. However, she will appear in a music video alongside Indian artist CJ Dhillon. In addition, the dancing girl has many upcoming projects that will keep you glued to your TV or social media displays. It is regrettable to remark that in the era of digital media, it appears to be simple to become an overnight sensation anywhere in the globe, including Pakistan.
Mera Dil Ye Pukare New Video Leaked
However, in today's piece, we'll witness a video of Ayesha, aka Mano, a social media sensation who is show smoking and sporting a loud t-shirt. She can be see blowing smoke in the viral video to simulate chain smoking. After the video went viral on social media, people began speculating that this girl was experiencing something like how our Pakistani people often overstep boundaries when they receive little respect. One crucial point: God knows who made this video, which may have been produce by one of her pals or manipulated.
'Mera Dil Ye Pukare Aaja' viral girl all set to star in a music video with CJ Dhillon
LENS Nahi Lungs — Meet Pakistan's Next Cringey Viral Sensation