Miss Croatia Violates Dress: During Croatia's recent FIFA World Cup quarterfinal match against Brazil at the Education City Stadium in Doha, Qatar. Former Miss Croatia Ivana Knöll was stopped by security personnel. During the World Cup, the model caused controversy with her scant attire in a "protest against Qatar's prohibition. Against female spectators wearing revealing apparel.".
Nora Fatehi Greets FIFA WC Fans with Full Body Show in Qatar
Knöll was wearing her sexiest attire to date when two security guards asked. Her to switch to a higher seat during the fiercely contested quarterfinal game between Croatia and Brazil.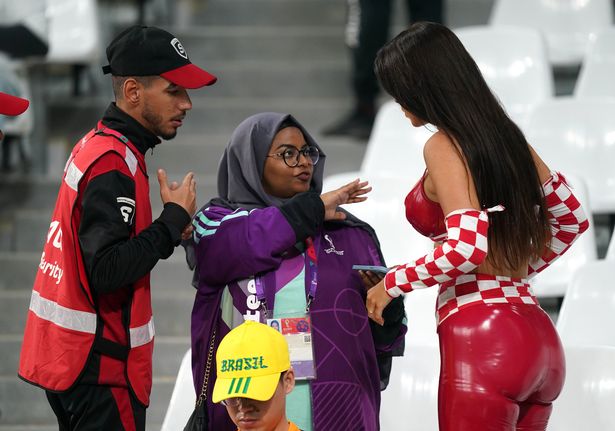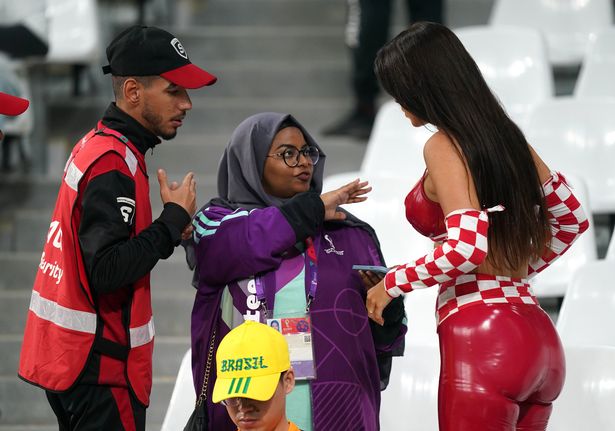 The former Miss Croatia sported a red bra underneath a pair of high-waisted leather. Lleggings and red and white chevron-patterned accessories. Throughout the game, she was frequently captured on camera posing for pictures with fans. And onlookers close to the field before being led to her seat by security personnel.
Predictions For The 2022 NFL Midseason
Following her presence at the FIFA World Cup in Qatar, the Croatian model gained notoriety. She even appeared on British journalist Piers Morgan's talk show, defending her revealing attire.
According to Knöll, the people in Qatar have been respectful of her clothing choices. She said,

I am very surprised and happy by the way the fans have respected my clothing in Qatar. I haven't had any bad reactions so far, not even one. I've had photos with lots of people and everyone seems happy to see me.
While still in Qatar, Ivana Knöll takes pictures with spectators outside the stadium.
She continues to update her global fan base and is anticipate to watch Croatia play Argentina in the semifinals.
Qatar's prohibition against showing skin
Before the FIFA World Cup 2022 began, Qatar warned female visitors not to wear revealing clothing while watching the games or risk being arrest for violating the dress code.
Lionel Messi's World Cup Room in Qatar to be Turned Into a Museum
The laws and regulations of Qatar require women to cover their shoulders and knees in public. And forbid them from donning tight clothing or exposing their cleavage. Visitors are neither expect nor required to dress in traditional Qatari garb nor to cover completely.